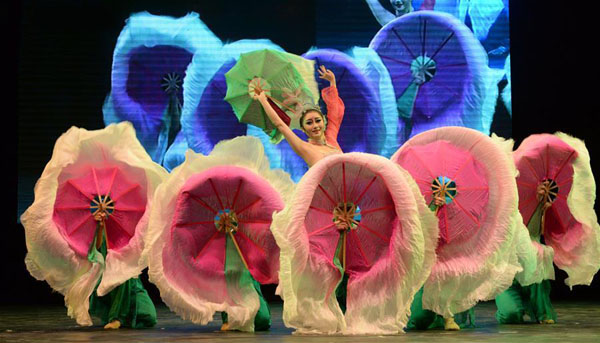 Chinese dancers perform at the National Theater in Dhaka, Bangladesh, Jan. 18, 2016. China's Tianjin Art Troupe staged on Monday a culturally captivating performance aimed at celebrating the upcoming Lunar New Year. [Photo/Xinhua]
Crowds of hundreds cheered, clapped and waved as China's famous Tianjin Art Troupe staged a culturally captivating event in a performance aimed at celebrating the upcoming Lunar New Year in Dhaka.
The performance included traditional Chinese musical instruments, dance, acrobatics and martial arts and many more exquisite recitals.
The Bangladesh-China Friendship Center (BCFC), in association with the Embassy of the People's Republic of China in Bangladesh and Bangladesh's National Academy of Fine and Performing Arts, organized the performance presented by the Tianjin Art Troupe of China.
The performance, "Beautiful Tianjin" took place on Sunday night at the National Theater of the academy in Dhaka.
BCFC President M. Delwar Hossain said the 32-member Tianjin Art Troupe was visiting Bangladesh to showcase its performance to the local people as part of celebrations for the Chinese New Year, which falls on Feb. 8.
He expressed his hope that the Chinese New Year will bring much more success for the People's Republic of China and for people in Bangladesh and elsewhere in the world.
Ruhul Amin, a Dhaka University student, said: "I am really impressed by the the troupe's performance. I've never seen such an excellent performance in my life. I'm delighted that they organized the program."
All the attendees agreed that the wonderful program will help build a deeper understanding between China and Bangladesh.