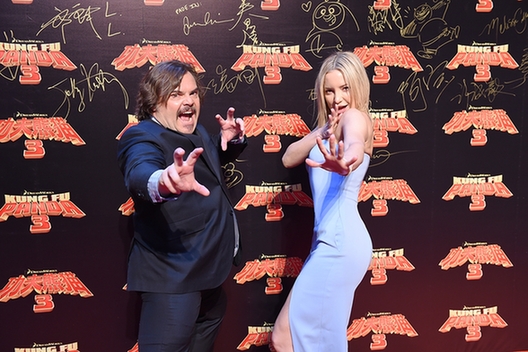 Jack Black and Kate Hudson pose for a photo at the premiere of 'Kung Fu Panda 3' in Shanghai on Jan 18, 2016. [Photo/caokaoxiaoxi.com]
Stars of the English and Chinese versions of "Kung Fu Panda 3" have gathered in Shanghai for the premiere of the animation in China.
Jack Black, who returns to play panda Po in the English version, joined Kate Hudson on the red carpet.
Kate Hudson plays a new panda Mei Mei who's obsessed with Po.
Meanwhile, Jackie Chan returns to the franchise for both the English and Chinese versions.
He voices for Master Monkey in the English version and Po's biological father in the Chinese version.
The kung fu star hoping for more movies like this to help foreigners understand China:
"I'm very delighted to see foreign production companies engage in making Chinese animations, helping to spread Chinese culture. So I'm always ready to provide voices for characters in these films."
Actor Huang Lei, who voices Po for Chinese audiences and superstar pianist Lang Lang, who plays on the film's soundtrack also joined the event.
The latest installment of the franchise follows Po as he reunites with his biological father and works to train a village of pandas to fight against an evil ancient spirit.
It opens in Chinese theaters on Jan 29.