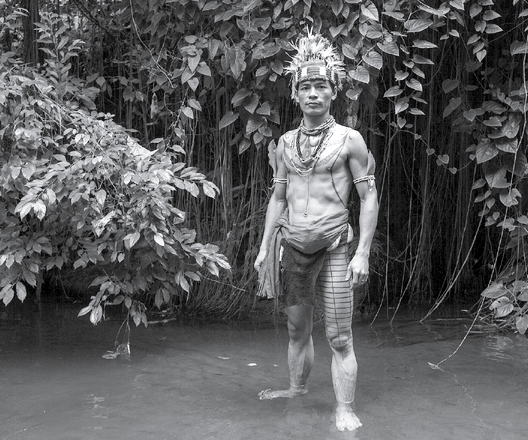 Esmat Sakulok displays his body tattoo design during a traditional festival in the village of Maguwoharjo in Yogyakarta. [Photo/Agencies]
Men in tribal dress stand amid dense jungle on the Indonesian island of Java, their bodies covered in elaborate, traditional tattoos inspired by cultures in distant corners of the vast, tropical archipelago.
Many images on display at the recent tattoo festival that brought the men together were not applied with fast, modern machines, but using a centuries-old, tribal method that involves artists gently tapping a stick mounted with a needle on a subject's skin.
The practice known as "hand-tapping" had almost faded out completely, as modernity overwhelmed Indonesia's tribes and younger generations eschewed their ancestors' ways, but tattoo artists have in recent years been driving a revival as more and more people seek to reconnect with the past.
"There is a growing trend now, there are more people who want to learn about traditional tattooing-I am very happy about it," says Herpianto Hendra, a tattoo artist who uses the ancient method and is a member of Borneo's Dayak tribespeople.
"I am proud that my culture is being recognised."
The body art ranges from flowers inspired by Dayak tattoos that mark the coming of age, to narrow, black lines running across the body, like those of indigenous peoples from a remote scattering of islands in western Indonesia.
The festival earlier this month in Maguwoharjo village in Java's cultural heartland gathered people from across Indonesia and the world at the studio of celebrated Indonesian tattoo artist Durga, a leading figure in the revival.
Durga has championed tattoos from the western Mentawai islands, home to a semi-nomadic tribespeople famed for their body art and the practice of sharpening their teeth, which they believe makes them more beautiful.