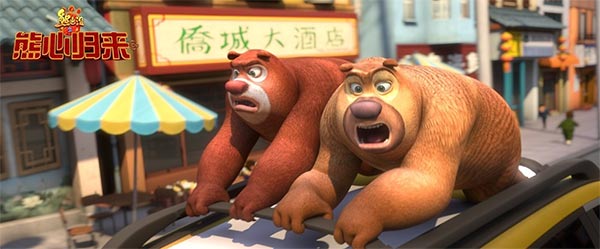 A still shot from Boonie Bears III. [Photo/Mtime]
It is one of the highest-grossing animated franchises in China, but
Boonie Bears
has recently created a new box-office record with sneak previews of its latest sequel. The upcoming installment,
Boonie Bears III
, has grossed a record 25 million yuan($3.79 million) in a three-day test release, a frequently used means to test the market reaction.
Usually the test screening is done for around two to three weeks ahead of the nationwide release. The results are then used to decide the first weekend's screenings and promotional strategies.
Adapted from its namesake animated TV series, the Boonie Bears is the story of two bears' bid to protect their habitat from a vicious lumberjack.
The sequel, which is to be released on Jan 16, takes the story further. In it, the bears' friends are captured and sold to a circus troupe. The bears then seek to rescue the kidnapped animals.
Ding Liang, the director, says the sequel's inspiration came from a national study. "According to data, up to 90 percent of Chinese children are mainly educated by their mothers. They are good students with high scores, but lack the courage to take up challenges and adventures," says Ding.
Ding hopes the animated title will encourage young viewers to be bolder.
He also says that the crew traveled to Russia and Las Vegas to learn about circus animals.
Taiwan pop star Chyi Chin sings the film's theme song The Outside World.
Related:
Kung Fu Panda 3 premieres in California