Italian chefs celebrate cuisine with veal cutlet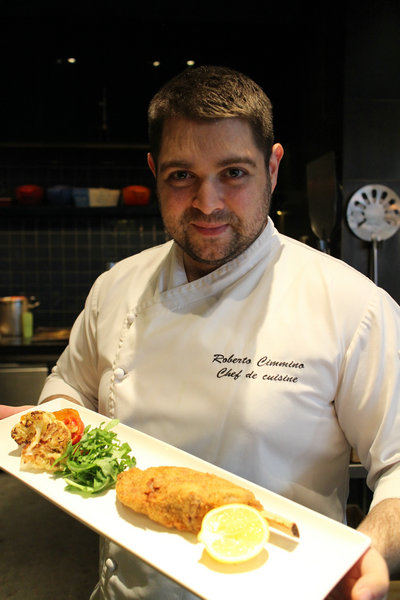 Italian chef Roberto Cimmino with Milan veal cutlet.[Photo provided to China Daily]
If you are easily shocked, sit down before you read this: There are people in the world who do not use clarified butter to fry costoletta alla Milanese, or breaded veal cutlet.
"You wouldn't believe-people even make it with pork, or whatever," says chef Roberto Cimmino with a comic eyeroll.
"It is quite a simple dish," he says. "But you have to make it precisely, make it right."
Cimmino, the kitchen boss at Sureno restaurant in Beijing's trendy Opposite House hotel, is determined to help us all make it right. So are thousands of other Italian chefs in more than 75 countries who are participating this weekend in the International Day of Italian Cuisines, which was created in 2008 to help the merely ignorant and also "as a reaction against the systematic forgery of Italian cuisine and products," organizers say on the IDIC website.
Sunday is the day: It's Jan 17 every year-the Catholic Church's feast day of Saint Anthony, the patron saint not only of domestic animals, but also of butchers and salami makers.
Most participating restaurants are offering the bone-in veal cutlet as a special on Sunday. Cimmino will serve it up for three days at Sureno, while chef Francesco Sanna will have it on the menu at Via Roman in the Kempinski Beijing for a full week, from Sunday until Jan 23. At Opera Bombana, chef Marino D'Antonio will join in Sunday's festivities but notes: "We have it on the menu all the time." Beyond China's capital, chef Samuele Rossi will feature the dish at his two Bella Vita restaurants, in Shanghai and Tianjin, on Sunday. (See Idic.itchefs-gvci.com for a listing of participating chefs around China, and the world.)
Traditionally, the dish begins with milk-fed veal, no substitutes allowed. Cimmino and his culinary brethern like to give the meat one last kiss of milk, in fact, marinating the veal chop in milk overnight to make sure the finished product is as tender as possible. Chefs will tenderize the chop with a kitchen mallet before breading it, but Cimmino cautions that the meat should not be pounded flat as you would for veal scallopini.
Sanna hosted two cooking demonstrations this week, coaching food professionals and media on how to tenderize the chop with a kitchen mallet, trim off the edge of hard fat, prepare eggs for dipping, dredge the veal thoroughly in bread crumbs, and nicely brown the cutlet in clarified butter-carefully following a recipe that will be used worldwide on Sunday.
"I would put salt and pepper before cooking," he says with a grin, "but for this occasion, we will do it the traditional way and add salt and pepper at the end."
"It's definitely a home-cooking dish," says Bella Vita's Rossi. That's one reason the International Day of Italian Cuisine includes not only promotion of meals by restaurant chefs but spreading the recipe to fans of Italian food.
"It's quite easy to make," says the Kempinski's Sanna. "Just take it step by step."