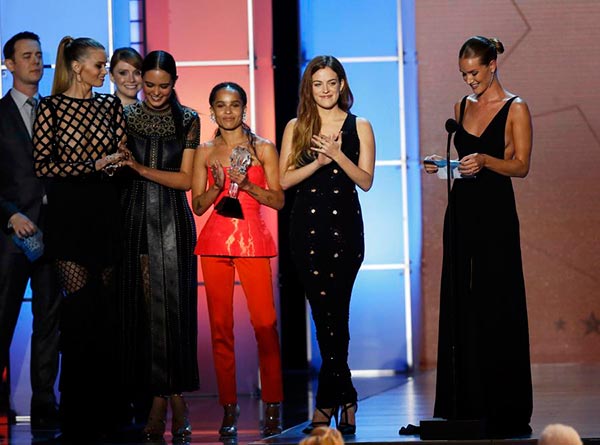 Actress Rosie Huntington-Whiteley (R) accepts the award for Best Director on behalf of George Miller for "Mad Max: Fury Road" along with cast members, (left to right) Abbey Lee, Courtney Eaton, Zoe Kravitz and Riley Keough, during the 21st Annual Critics' Choice Awards in Santa Monica, California January 17, 2016. [Photo/Agencies]
Mad Max: Fury Road
was the big winner with nine awards at the 21st Annual Critics' Choice Awards held at the Barker Hangar in Santa Monica, Los Angeles on Sunday night.
The announcement was made by the Broadcast Film Critics Association (BFCA) and Broadcast Television Journalists Association (BTJA).
Among awards of Mad Max: Fury Road were best director for George Miller; and best actor and actress in an action movie for Tom Hardy and Charlize Theron.
Other big winners were the FX Networks' Fargo with four awards and the films The Big Short and Spotlight, which won three each. Spotlight was selected best picture.
Leonardo DiCaprio won the best film actor for The Revenant, while Brie Larson as best film actress for The Room, Sylvester Stallone as best supporting actor in Creed and Alicia Vikander as best supporting actress in The Danish Girl.
Christian Bale won best actor in a comedy for The Big Short, Amy Schumer for best actress in a comedy for Trainwreck and Jacob Tremblay won best young actor or actress for Room.
Related:
DiCaprio, Inarritu welcomed by screaming fans in Rome