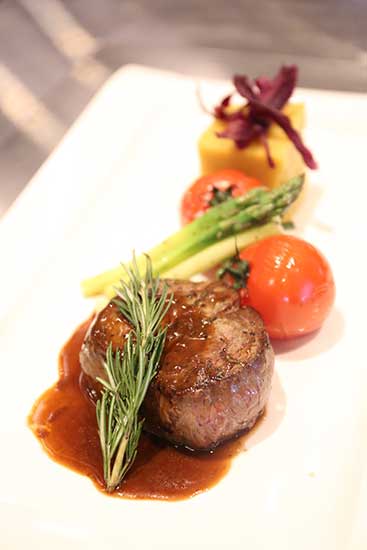 Australian beef filet with asparagus.[Photo provided to China Daily]
Like most Beijingers, I've heard lots about the Sunrise Hotel at Yanqi Lake. But I never had a chance to see the facility that was built to host last year's APEC summit of world leaders - until an invitation came to join a cooking class there. It was an easy win-win for me to say yes.
First there was a hotel tour - there are two hotels, actually, including the stunning and already famous oval architecture at the east end of the lake. The staff patiently answered our insightful questions ("Where is Mr Putin's room?") before taking us to the open kitchen where chef Ivan Li and his team awaited us.
I was the only male in the class of about 10 - except for Li and executive pastry chef Cord H. Bredemeyer. Our group of wannabes - freshly black-aproned and paper-toqued - gathered around the two chefs and their kitchen teams as they walked us through the preparation of three dishes.
The first two preparations, directed by Li, were dishes we could make at home with a little ambition - both designed to wow dinner guests, particularly the pan-seared foie gras with balsamic reduction.
We got two tips right away: Since we were going to serve the goose liver on top of fried apple rings, Li prepared a bowl of lemon water: A short soaking of the apple slices would keep them fresh and hold their color. (A bath with a splash of white vinegar in the water works just as well, Li says.)
The second tip: Butter is good. While olive oil is the chefs' choice for high-temperature cooking (butter burns quickly), Li showed us how to have it both ways: Start frying the foie gras on high heat in olive oil, then turn down the fire and add butter to the pan to impart its rich flavor.
"Do the same thing with pasta - add butter at the end of the cooking," chimes in Bredemeyer.