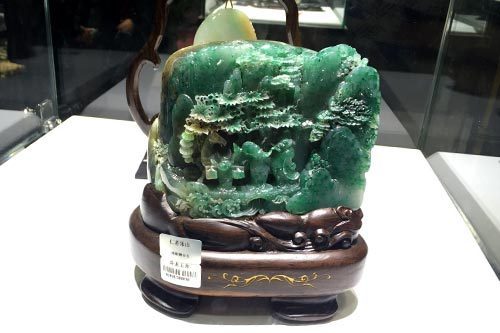 Dushan jade carving is on display at the press confress in Beijing's National Conference Center on Nov 28. [Photo/jewellery.org.cn] 
The city of Nanyang, Henan province held a press conference at Beijing's National Conference Center, on Nov 28, to explain some new national standards for jade, a popular product of the city and surrounding area, that China's General Quality Supervision, Inspection and Quarantine Administration and its Standardization Administration set earlier this year.
The standards cover the "Nomenclature and Classification of Dushan Jade", referring to the jade from the Nanyang area, took effect this past June 1. The nephrite content of Dushan jade is high its hardness is said to be comparable to emeralds, making it one of China's four most famous forms of jade.
Bai Xiangyang, the city's vice-mayor, told the conference, "The things that distinguish Dushan Jade from other forms of jade now have a scientific basis which helps the promotion of Dushan jade and the local jade industry."
That jade is known for its bright color, hardness, gloss, transparenc and Its use in jade carving and gets its name from Dushan Mountain near Nanyang, which has got more than 15,000 enterprises involved in the business, as well as 17 jade markets whose annual jade sales reaching 30 billion yuan ($4.7billion).