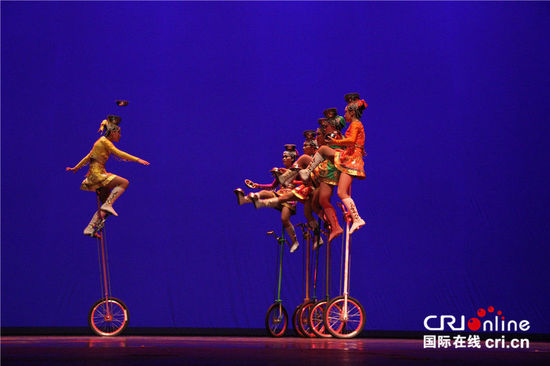 Acrobats from China's Inner Mongolia autonomous region perform as part of a series of performances ahead of the Spring Festival, in Warsaw, Polan, Jan 25, 2016. [Photo/cri.cn]
A grand show performed by Chinese artists from the country's Inner Mongolia autonomous region was staged in Warsaw on Jan 25, kicking off a two-week tour to mark China's Lunar New Year in Poland.
Featuring traditional poetry, music, dance, and acrobatics from the northern Chinese region, the show is part of the sixth edition of the Chinese Lunar New Year gala in Poland, which was co-organized by the Chinese Ministry of Culture and the Chinese Embassy in Poland.
The gala was arranged to celebrate the arrival of the Year of the Monkey according to Chinese zodiac. The Chinese Lunar New Year falls on February 8 this year.
In a message delivered to the participants of Monday's event, Polish President Andrzej Duda expressed his best wishes to people celebrating the Chinese Lunar New Year, or the Spring Festival, in Poland.
The Year of the Monkey - a symbol of dynamism, energy and courage - would mean that these features might accompany Polish-Chinese relations, which are developing very well, according to Wojciech Kolarski, Undersecretary of State in the Chancellery of the President, who delivered the message on behalf of the Polish President.
After Monday's show, the performing troupe is scheduled to visit five Polish towns in the next two weeks.