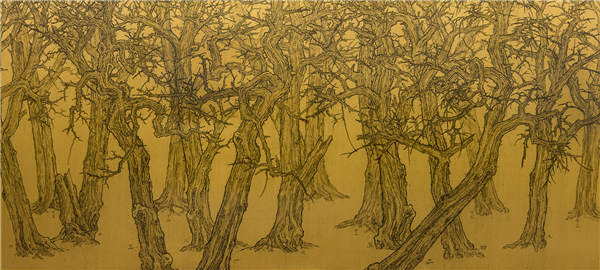 Forest by Ni Youyu. Photos provided to China Daily
Swiss collector Uli Sigg will hold his largest display of contemporary Chinese art in Bern, Deng Zhangyu reports.
With the world's largest known collection of contemporary Chinese art in his possession, Swiss collector Uli Sigg is ready to hold his second comprehensive show since 2005, offering Western audiences an insight into China's art scene over the last decade. Sigg has collected more than 2,200 pieces of Chinese art.
The new show, Chinese Whispers, will be held from Feb 19 to June 19 at the Museum of Fine Arts Bern, the oldest art museum in Switzerland, and the Paul Klee art center, also in Bern. It will display 150 works of 71 Chinese contemporary artists from Sigg's collection. Sixty percent of this art was bequeathed four years ago to M+ Museum, an art museum that will open in Hong Kong in 2019.
Although Sigg has held several shows in the West on contemporary Chinese art, with particular focus on topics like shanshui (landscape ink painting), calligraphy, Cantonese artists and the artists of Shanghai, the new show in Bern is expected to be the largest ever display of his art holdings to date.
Mahjong, his first overview show in Bern in 2005, was so successful that the Museum of Fine Arts Bern, where it was held, said an exhibition of contemporary art with such an audience hadn't been witnessed there earlier, according to Sigg. That show was a first-time offering of Chinese contemporary art from a collector's view to an audience that wasn't familiar with it.
"Ten years later, they want to do another show to see what has changed in my collection. They're curious about the contemporary art scene in China after 2005," says Sigg, 69.