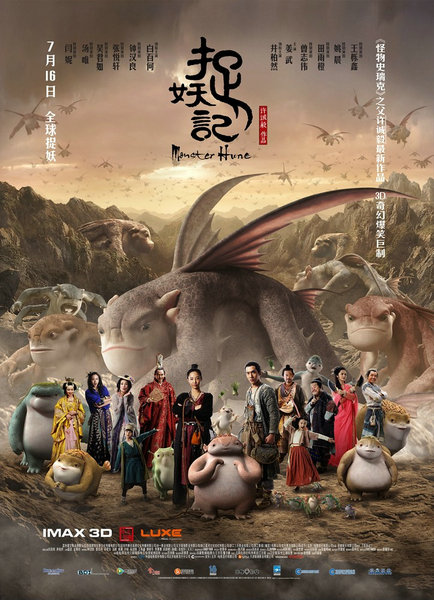 A poster for the domestic movie Monster Hunt. [Photo/Mtime]
China is witnessing average annual growth of 30% in its film market and is likely to become the world's biggest film consumer in two years, according to a new report.
Based on a recent report by China's media watchdog, domestic box office totals were 44.06billion yuan ($ 6.7 billion) in 2015, a 48.7 percent increase compared to 2014. With 30 percent average growth, the box office in 2016 is expected to reach 60 billion yuan ($ 9.12 billion).
Meanwhile, box office in the US totaled $10.4 billion last year, a 5 percent drop from the year before.
"China will surpass the US to become the biggest film market in the world in two years," said Imax CEO Richard Gelfond.
Among total ticket sales last year, 27.136 billion yuan ($4.13 billion) was made by domestic movies, exceeding total revenues brought in by overseas films by 61.58 percent. Forty-seven domestic works earned more than 10 million yuan in sales and 11 witnessed a breakthrough of more than 1 billion yuan ($152 million) within a week after release.
Meanwhile, the lowest weekly box office during the whole year still reached a remarkable 440 million yuan ($ 66.88 million), so that industry insiders called the year 2015 "a year without an off-season".