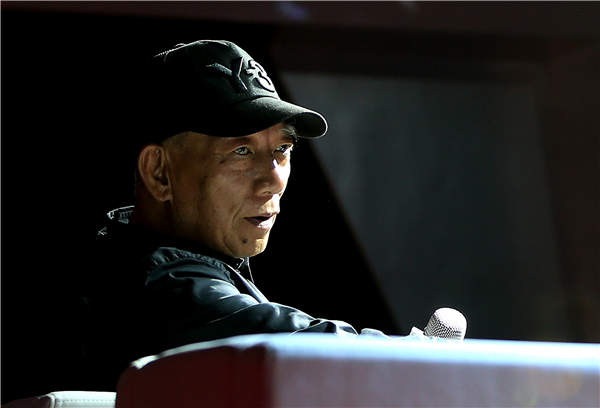 Hong Kong veteran director Yuen Woo-ping has made a sequel of Ang Lee's masterpiece Crouching Tiger, Hidden Dragon. [Photo by Jiang Dong/China Daily]
Will the sequel to Crouching Tiger, Hidden Dragon follow in the footsteps of the epic feature? Xu Fan looks for answers.
In the history of Chinese cinema, no movie other than Crouching Tiger, Hidden Dragon has captured so much attention from North America, a market that Chinese filmmakers often dream about capturing.
Being the first Chinese-language movie to win at the Oscars, it set the tone for future martial arts movies, and made Ang Lee's directorial masterpiece a model both in terms of art and commerce.
This makes it easy to understand why Yuen Woo-ping, the director of the sequel titled Crouching Tiger, Hidden Dragon: Sword of Destiny, is often asked if he worries about being compared with Lee.
"No, I've never felt stressed. When you think too much you are unable to make a good film," says the 69-year-old Hong Kong-based filmmaker, in an interview with China Daily.
The new movie, adapted from the fifth and final book of wuxia novelist Wang Dulu's Crane Iron series (Lee adapted the fourth book), will hit Chinese mainland theaters in the 3-D format on Feb 19.
Alongside the Mandarin version, an English version will be simultaneously released on streaming site Netflix and in some cinemas in North America.
Using the romantic bond of the first film, the sequel rewrites a key plot of the original story-protagonist swordswoman Yu Xiulian's fiance, who was supposed to have died in the first movie protecting her true love, Li Mubai, is revived, and the new plot revolves around fidelity, revenge and conspiracy.