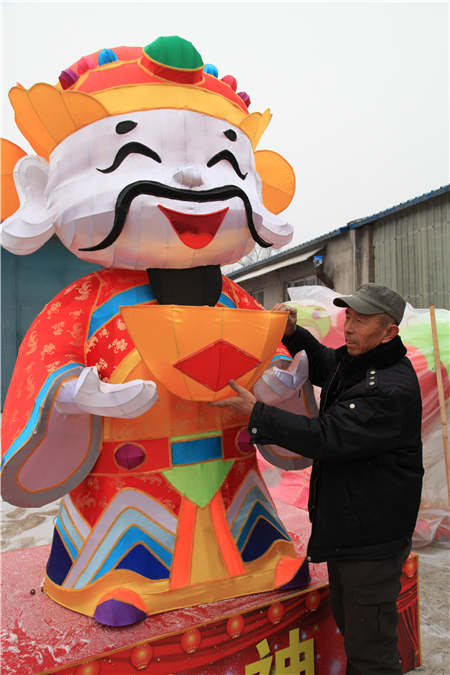 Guo Erniu with the lantern of the God of Fortune, a major product of his company this year, at his studio in Taiyuan, Shanxi province. Photos by Sun Ruisheng / China Daily
In an age of computer-controlled graphics, each of the craftsman's creations are unique
A disorderly pile of thin iron wire, resembling spaghetti on a large plate, sits on the ground before 56-year-old Guo Erniu.
He considers the mound for a few minutes, draws some designs on paper, then picks up one end of the flexible 4.5-millimeter wire and starts to cut and bend. He works slowly, but steadily. In an hour, the shape of a monkey - the bones of a lantern - rises from the heap.
"Next we will weld the joints and put on a cover to make a larger-than-life monkey," Guo said, his eyes full of excitement.
Lanterns are a traditional decoration for the Lunar New Year and the Lantern Festival two weeks later, but the age-old way of making them has changed. Even though more companies use computer-controlled machines, the craftsman living in Hengqu village of Taiyuan in Shanxi province insists on crafting each structure by hand.
His son drafts some designs on a computer, but the main structure, especially the details, Guo painstakingly creates with his nimble fingers. "Every handmade lantern is unique, and it tells its own story," Guo said. "That's the soul of it. You can design the main body on computer, but the details need human feeling."
Guo's pieces can be divided into two main types: a Chinese Zodiac series, featuring one animal every year, and more ordinary models that carry people's wishes for the new year.