Going to temple fairs during Spring Festival remains a favorite activity of Beijing residents spending the Lunar New Year in the capital. Most offer cultural performances and a variety of booths with vendors demonstrating and selling traditional arts and crafts.
The fairs also have a lot of games for children and adults and a host of local snacks, court foods, and other dishes to taste.
Dragon and lion dances, waist drum dancing, lotus blossom fairy dances, ground and clam dancing, as well as other folk performances are featured at most temple fairs. Some even stage traditional wedding ceremonies.
For foreigners, a temple fair is definitely the best chance to experience the most original folk culture and enjoy unique craftsmanship in items displayed by local artisans.
This year, Beijing has prepared various cultural activities at temple fairs. Let's take a look at them.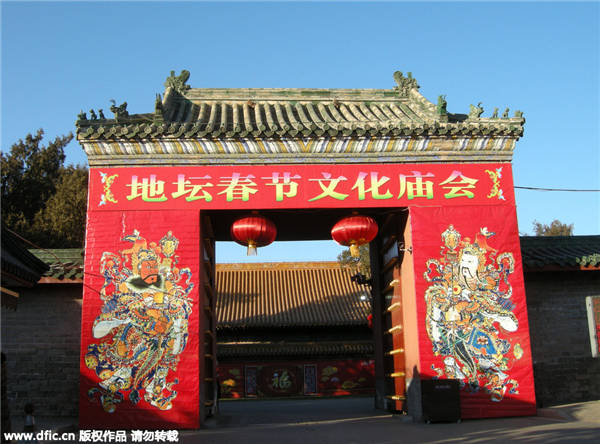 The Temple of Earth, or Ditan Park is decorated for the upcoming Chinese New Year in Beijing, Jan 31, 2016. [Photo/IC]
Ditan Temple Fair
Dates: Feb 8-12
Venue: Ditan Park, Dongcheng district
Admission: 10 yuan
The location of the city's busiest temple fairs since 1985, Ditan (Temple of Earth) Park is the site of the altar where sacrifices were formerly offered to the earth god.
This year's fair will add more cultural elements, including reenactments of traditional Qing Dynasty ceremonies to worship the God of Earth, Qinqiang Opera and Huangmei Opera performances, a folk flower fair, and photo exhibitions.