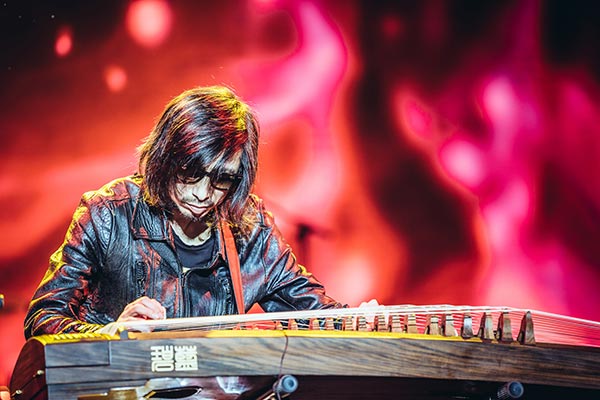 Xie Tianxiao. [Photo provided to China Daily]
Chinese rock singer-songwriter Xie Tianxiao and his band,
Cold-blooded Animal
, will play 15 concerts around China over November-December.
For the first time, the musician will perform with a symphony orchestra.
His hits, including Those Who Pursue the Shadow, Sunflower and Illusion, will be adapted into new versions, with the classical musicians.
The concerts will also see Xie performing with a guzheng, or Chinese zither, which he combines with his rock tunes.
Born in Zibo, in Shandong province, Xie learned Chinese brush painting and Peking Opera as a child. He started his music career in the early 1990s.
With his band, which he formed in 1997, he rose to fame due to his low, deep voice, wild roaring and heavy rock beats.
Between 1997 and 2002, Cold-blooded Animal held hundreds of shows in Beijing. It released its first self-titled album in 2000. The album sold more than 200,000 copies across China.
The band's success has also attracted attention abroad.
In 2001, it was the first Chinese rock band to appear at the South By Southwest Music Festival in Austin, Texas. It also became the first Chinese rock band to appear in Rolling Stone magazine.
In 2003, the band released its second album, X.T.X., which received acclaim from fans and critics. Xie has been called "the second rock hero", after Cui Jian, though he doesn't like the comparison.
Before Xie, Cui was the first Chinese rock musician to work with a symphony orchestra for his concerts.
Guzheng Reggae, the band's third album, saw Xie experiment with using rock tunes and the guzheng to interpret Jamaican reggae music.
If you go:
7:30 pm, Nov 7. Shanghai Grand Theater, 300 Renmin Dadao,near Huangpi Beilu (North road), Shanghai.
7:30 pm, Nov 14. Beijing Workers' Gymnasium, Gongti Beilu (North road), Chaoyang district, Beijing. 400-670-8865
Related:
Musical 'Night in Paris' performed in E China