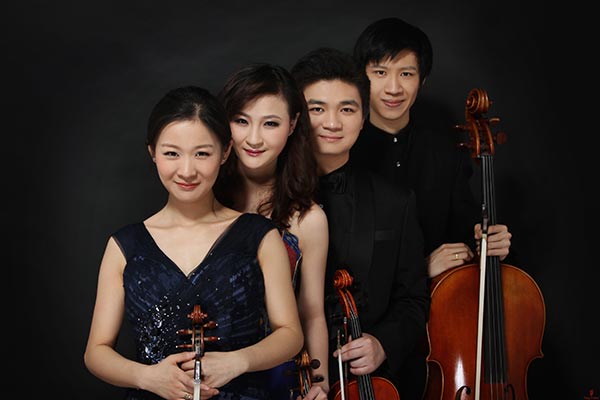 Members of the Amber Quartet: (from left) Ning Fangliang, Su Yajing, Qi Wang and Yang Yichen. [Photo provided to China Daily]
Yang Yichen has a remarkable resume, learning the cello since he was aged 8, collaborating with China's first female conductor Zheng Xiaoying and the Xiamen Symphony Orchestra at 14, and now pursuing his master's degree at China's top music school, the Central Conservatory of Music, in Beijing.
For many Chinese prodigies of his generation, standing out as a great soloist is the longtime wish of parents, teachers and even themselves. However, this is what Yang has refused to do.
At 27, Yang has found his career goal along with three like-minded friends-violinists Ning Fangliang, Su Yajing and Qi Wang-all award-winning musicians who prefer playing as a team instead of solo performances.
Known as the Amber Quartet, they will perform on the occasion of the 75th anniversary of the founding of the Central Conservatory of Music on Saturday, and also give a recital on Dec 2 featuring classical pieces, including Mendelssohn's String Quartets Op. 80, and the contemporary Chinese work Totem by composer Zhang Zhao.
"Many children in China study music, practice very hard but go nowhere. We want to promote the development of chamber music in China and prove that playing music can be fun and not lonely," says Ning, 27, who has studied the violin since childhood and was awarded the top prize at the CCTV Violin Competition in 2011.
Back in 2005, Yang initiated the idea of founding the quartet, but his original intention wasn't that ambitious. He fell in love with the violinist Ning, who was then his schoolmate and is now his wife.