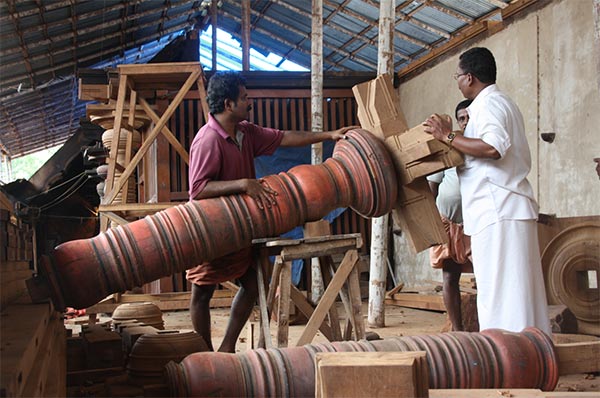 Sree Vadakkunnathan Temple of India. [Photo/UNESCO]
The Award of Excellence for the Conservation of Sree Vadakkunnathan Temple, Thrissur in Kerala, India recognizes the remarkable conservation effort undertaken at the sacred site which employed age-old rituals and conservation techniques drawn from vastu shastra, an Indian traditional science focusing on architecture and construction. As such, the tangible attributes of the temple are inextricably linked with its intangible heritage which dates back generations.
The Asia-Pacific Awards for Cultural Heritage Conservation recognizes the effors of private individuals and organizations that have successfully restored and conserved structures and buildings of heritage value in the region. Through recognizing private efforts to restore and adapt historic properties, the awards aim to encourage other property owners to undertake conservation projects within their communities, either independently or by seeking public-private partnerships.
A panel of international conservation experts met in June to review 36 entries from across the Asia-Pacific region. Winners were selected based on how the projects reflected a clear understanding and application of various criteria, such as the articulation of the spirit of place, technical achievement, appropriate use or adaptation, and the project's contribution to the surrounding environment as well as the local community's cultural and historical continuity.
Eligible projects must be more than 50 years old and the restoration must have been completed within the past 10 years. Buildings with a new use must have also been in viable use for at least one year from the date of the awards announcement.  
Other Awardees included: 
Awards of Distinction:   
Saltpans of Yim Tin Tsai, Hong Kong, China          
J.N. Petit Institute, Mumbai, India 
Awards of Merit:  
Cangdong Heritage Education Centre, Kaiping, Guangdong province, China   
Pingyao Courtyard House, Shanxi province, China    
Xieng Thong Temple, Luang Prabang, Lao PDR 
Baan Luang Rajamaitri, Muang District, Chantaburi, Thailand  
Honourable Mention: 
Wanslea Cancer Wellness Centre, Cottesloe, Western Australia, Australia 
Sanfang Qixiang, Fuzhou, Fujian province, China 
Parvati Nandan Ganapati Temple, Pune, Maharashtra, India 
YHA Mei Ho House Youth Hostel, Hong Kong, China 
Award for New Design in Heritage Contexts:
Port Arthur Penitentiary, Tasmania, Australia