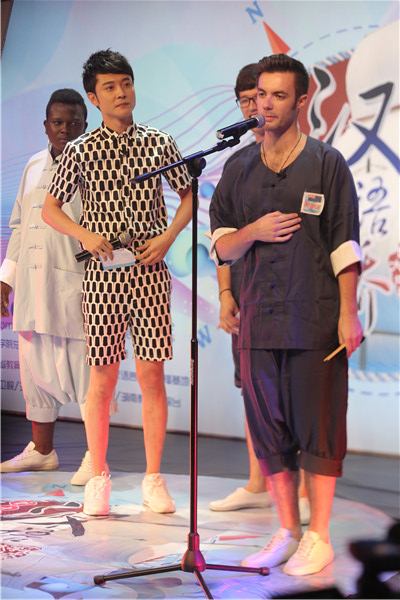 New Zealander Ni Dongmou (his Chinese name) introduces himself during the Chinese Bridge competition in Beijing, July 22, 2015. [Photo provided to chinadaily.com.cn]
The 14th Chinese Bridge - Chinese Proficiency Competition for Foreign College Students is in full swing, as the 10 finalists are finishing their China tour and heading to the last stop in Changsha to fight for the championship.
Before the contestants left Beijing for Changsha, we spoke to New Zealander Ni Dongmou (his Chinese name), who is currently ranked first for popularity by voters on the event's official website, bridge.chinese.cn.
How did you learn about Chinese Bridge?
I came to know about the Hanyuqiao (Chinese Bridge) competition through one of my teachers at Auckland University when I was finishing studying the Chinese component of my major. She came up to me and introduced me to it. She said it would be a good way to maintain and improve my Chinese. I thought it would be a good opportunity.
This year, the organizer has specifically arranged the 10 finalists to experience the cities under the theme of "One Belt, One Road". How did you like the cities?
Since coming to China, I discovered that Dali was actually a very romantic city, for a lot of cultural and historical content. Also, I hadn't realized that Changsha was actually deeply connected to the ancient Silk Road. So it was very interesting to go there in person and look at all the historical aspects.
Since the finals of Chinese Bridge this year will be made into a reality show, contestants are filmed by cameras everywhere, even when they are taking a paper test. Is that something hard to deal with?
To be honest, I don't think that anyone would like to be filmed 24 hours a day, although a few contestants here, I think, like the attention. But after living in this kind of lifestyle for a while, you do get used to it, and you develop a different attitude to get over it and interact with people around you. Now, I guess I can say that I am used to it. But I am still looking forward to the time when there is no camera around me, so I can relax a bit.
As the most popular contestant so far this year, what's your secret to being competitive, and what's your advice to other Chinese learners?
I have only studied Chinese for three years. I guess the only thing I can say is to maintain your diligence. If you slack off, it is very hard to keep up. Especially in my last year, I realized I needed to work very, very hard. Especially when you are overseas, you have fewer opportunities to use the language. So my recommendation to anyone who wants to study Chinese is that "work very hard, and at the end of it, you won't be disappointed."
Organized by China's Hanban, or the Confucius Institute Headquarters, and the Hunan provincial government, the Chinese Bridge - Chinese Proficiency Competition for Foreign College Students has been held annually since 2002. The competition tests the contestants' Chinese abilities in various forms, from listening and speaking to Chinese literacy. This year, the competition attracted a total of 133 contestants from 97 countries to China.
Related: