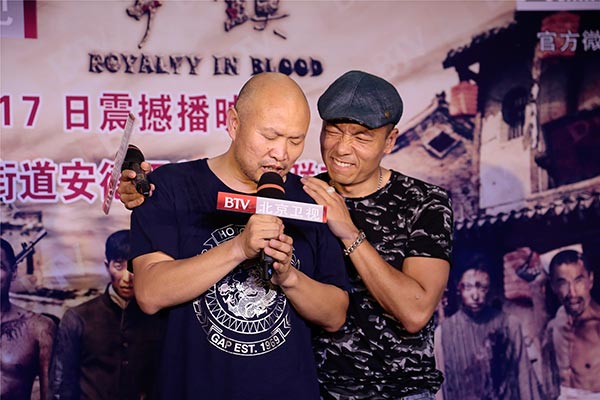 Director Gong Zhaohui (left) and actor Wang Ting at the Royalty in Blood. [Photo provided to chinadaily.com.cn]
Picture a weird town where every resident lives a double life. During the day, they are common people; when night falls, they turn into killing machines.
The hit TV series Royalty in Blood, or Yi Zhen, has garnered widespread attention since it premiered on Beijing Satellite TV on July 17.
Set during the War of Resistance against Japanese Aggression (1937-45), the series features a group of Kuomintang special agents disguised as locals living in a small town to protect a national treasure. When the town is discovered and threatened by a troop of Japanese soldiers, the agents assassinate the enemies, but soon find they are facing a bigger, deadly danger.
A highlight of the drama is the Dolby stereo effect, a first for a small-screen production. It means audiences can enjoy the cinema effect in their living rooms, says director Gong Zhaohui, who discussed the show at a recent Beijing press conference. A diehard jazz fan, Gong reveals that he recruited 20 recording artists and took nearly one year to do the music.
"When I released the trailers in a TV program trade market, most professionals felt it has the similar quality as a movie," he says, smiling.
"The series features some heroes far from the traditional stereotypes. We want it to be 'unique' in every aspect, including the storyline, role characteristics, and the color and light," says the director.
Similar to Arnold Schwarzenegger's Harry Tasker in the American crime thriller True Lies, all the special agents in Royalty have a cover, such as a blacksmith, a vendor or a depressed widow.
The 36-episode series stars Wang Qianyuan, the best-actor winner at the 23th Tokyo International Film Festival for the arthouse title The Piano in A Fatory.
Wang, who has rarely appeared in TV programs in recent years, says that the script attracted him.
"It examines the complexity of humans. In the world of special agents, they always face betrayal, murder and fraud. For them, true love and friendship sometimes are more like a luxury," he says.
Related:
Universal Pictures' 'Jurassic World' sequel set for June 2018