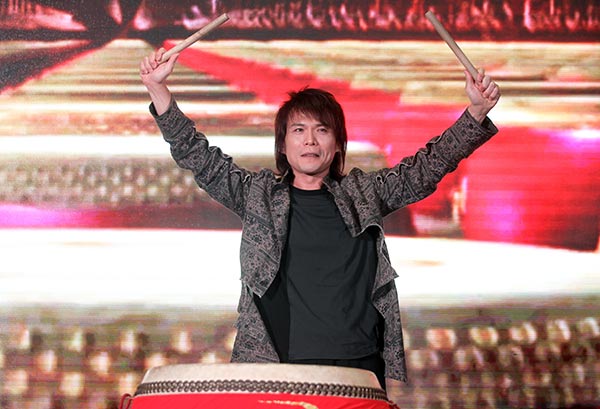 Taiwan rocker Wu Bai and his band will soon launch a nationwide tour, Endless Shining Days. Zou Hong / China Daily
About one year ago, Taiwan rock musician Wu Chun-lin, more popularly referred to by his stage name, Wu Bai, spotted a young man riding a motorcycle along a narrow path in a small village in southern Taiwan. The young man was singing loudly, a guitar strapped to his back.
The scene transported Wu back to his youth when he started singing and writing songs. It also inspired him to launch the Endless Shining Days tour, with performances in Taiwan, Hong Kong and the Chinese mainland.
He will perform in Beijing on June 20 with his band, Wu Bai and China Blue.
"Many young people left their hometown to pursue their dreams in bigger cities. Looking back, I think we just chose another way to live our lives. Whether you choose to stay on farms or become a rocker, you still have to work hard and do the best you can," says the 47-year-old.
On previous tours, Wu has been reluctant to play his hits, claiming they were "too boring".
But this time, he will review all his hits from the late 1980s, such as Wanderer's Love Song, White Dove and You Are My Flower, as a way to celebrate his 25 years in the industry.
With more than 20 albums, Wu has tried various musical styles, such as hard-edged blues rock and electronic music, as well as fusing old Taiwan folk with Japanese enka and traditional Chinese ballads.
An avid follower of contemporary dance, Wu will have dancers from Taiwan join the tour, performing to his music.
A special guest at the concert will be Peng Fangqing, a young singer who was spotted by Wu while he was singing on a central Beijing street.