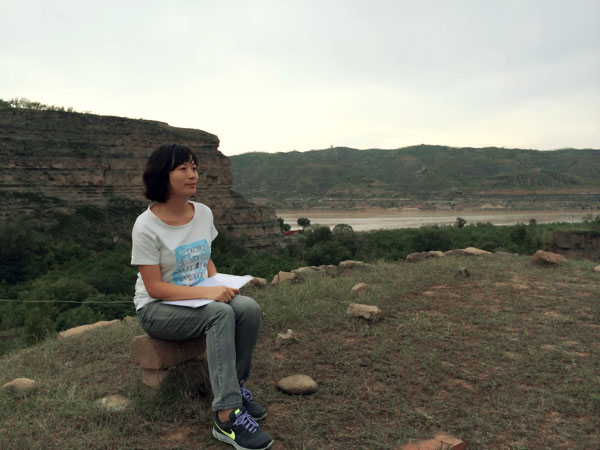 Jiang Haoshu, founder of Rural Cultural Renewal Initiative. [Photo provided to chinadaily.com.cn]
Villages carrying both Chinese traditional culture and memories are disappearing at an alarming rate. Although the government has made much effort in recent years to save the vanishing villages, it is difficult to make a difference in a short time without additional measures.
China has a huge numbers of villages and wide varieties of folk culture, and future development of villages is upon all of us. Like an old saying goes: When everybody adds fuel, the flames rise high.
We talked to Jiang Haoshu, a civil servant in Beijing and founder of Rural Cultural Renewal Initiative, a volunteer team featuring enthusiasts, experts, and professionals, who are reaching out to help more villages. Let's hear what she has to say.
People don't usually associate a civil servant in a big city with an enthusiastic volunteer in rural service. What inspired you to start such a program?
I've been working in a government department for 15 years, mostly translating government papers and interpreting for international meetings. I was born in a small town in Hunan province, so I have always considered myself a "country kid".
When I grew up and became a civil servant in Beijing and a "world traveler", I came to the realization that the countryside not only bears the "root" of Chinese civilization, but perhaps the future of China as well. Not only because that is where most of the population lives, but because it contains many good deep-rooted beliefs, philosophy, lifestyle and universal humanity that can well adapt to this new "ecological age" if we all work to this end.
However, many people are misled by a fervent passion for city-building and are eager to discard this rural legacy for the sake of "modernization", which gave rise to many unnecessary destruction and self-rejection in the countryside.
I don't think the Chinese population can be totally "urbanized" and the countryside should be "cast away". I thought about this for quite long and decided to do something about it.
What was your goal when you started the volunteer team?
To renew China's rural culture, help it adapt to the modern world and create new things.
Your program is called Rural Cultural Renewal Initiative. Why do you use the world "renewal" instead of "protection"?
Mere museum-like protection will only ossify rural culture and suffocate its vitality. As long as the farmers are living as human beings they will need new creations, to make their life more comfortable, more affluent as well as more beautiful and fashionable. Our job is to give them the "key" to their own possibilities.
How and when did you start Rural Cultural Renewal Initiative?
I had always wanted to do something for rural China, and like many others I started by giving donations for poverty-ridden areas, contributing to building countryside school "book-corners" and improving children's welfare. Then in 2012 when I saw many villages across China were busy demolishing old houses I felt that simple donations without sharing of vision just wasn't enough.
The countryside not only needs financial support and children's welfare, but also more holistic and practical social services, awareness-building and capacity-building towards a more sustainable end. My friends and I then did some research on a few villages in different parts of China, and we saw a lot of demand in this field. Meanwhile, I started talking with experts in this field, including policy-makers, scholars, farming experts, e-commerce entrepreneurs, architects, designers and even artists who have all been working on this front for many years.
In April 2014, I started Rural Cultural Renewal Initiative with the help of the Beijing Volunteers Alliance, which helped me spread this information to many young volunteers across Beijing and beyond.