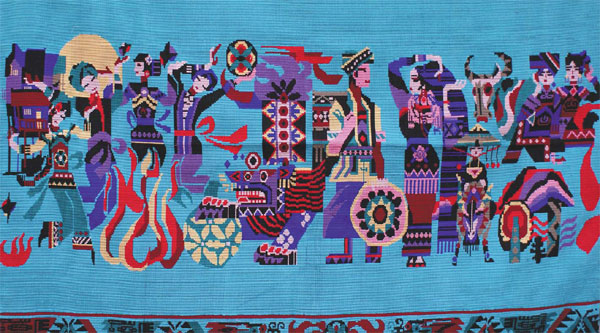 Colorful Tujia brocade portrays local life and customs in great detail. Photos provided to China Daily
Ancient brocade and stone carving techniques live on
Central China's Hunan province is creating its own unique mark on the map of the nation's cultural centers with traditional arts and crafts.
Along with fast economic growth, Hunan's traditional cultural sector has also expanded rapidly.
The province's rich intangible cultural heritage featuring exquisite techniques are manifestations of its long history.
"Hunan province has nearly 100 categories of folk arts and crafts including carving, metal crafts, lacquer, embroidery, jewelry, art ceramics and fireworks," said Liang Xiangyong, director of the Hunan Arts and Crafts Museum, which contains almost all the representative art works in the province. "Some of them are well received in overseas markets.
"Now we have a number of national or provincial-level art and craft masters. We want to provide a good communication and display venue for them and help all types of craftsmen promote their works as well. Many of their works have already been acquired by overseas collectors," Liang said.
He noted some works such as the brocade from the Tujia ethnic group, Xiangxiu - or Hunan embroidery - and chrysanthemum stone carving have a greater influence both at home and abroad.