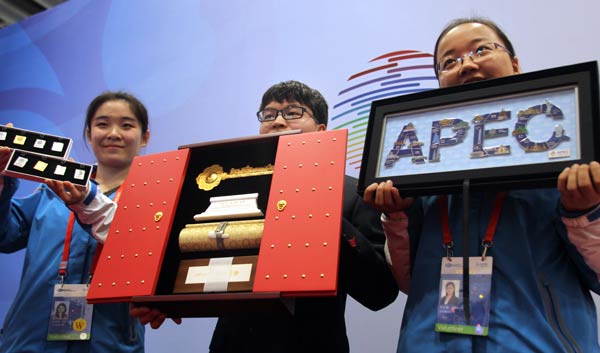 Staffers display commemorative emblems for the 2014 Asia-Pacific Economic Cooperation Economic Leaders' Week (left), a sample of diplomatic gifts for the VIPs (center) and emblems of the 21 APEC economies. Zou Hong /China Daily
Journalists arriving at the media center at the National Convention Center for the 2014 APEC Economic Leaders' Week might think they have walked into a traditional Chinese art exhibition.
From the red-painted archway with gilded characters over the entrance to the cultural booths featuring traditional craftsmanship in the corridor, the center's decoration and layout brings these age-old arts to life.
The Asia-Pacific Economic Cooperation forum meetings, which welcome high-profile leaders and officials from 21 member economies as well as more than 4,000 reporters from around the world to Beijing, are the perfect stage for traditional Chinese culture to shine, according to artists and craftsmen.
"It's a great chance to showcase some traditional arts to the world at such a highprofile platform," Lu Baogang, a shadow puppet performer at the cultural booth, told China Daily. "There is no better place to demonstrate our skills and crafts than at an international occasion like APEC."
Since the media center opened on Wednesday, six cultural booths featuring exhibitions of Chinese intangible cultural heritage, such as diabolo juggling, shadow puppetry, paper cutting and watercolor block printing, have captured the attention of many foreign journalists.
K. J. M. Varma, China correspondent for the Press Trust of India, the largest news agency in India, was soon attracted by the diabolo performance when he arrived at the center on Thursday.
He and his colleagues spent 10 minutes watching the performance before checking in. "I found it very interesting, as I've only seen spinning tops on the ground before. I think it's a good idea to present these cultural items and I will definitely go to more shows if I'm free," Varma said.
Lu Min, working at the watercolor block printing booth, said that as the meetings proceed, more journalists are expected to visit the cultural booths to learn about traditional performances.
"I'm sure we will have our hands full with introducing and demonstrating our arts to more visitors," said Lu, who brought a four-member crew to the center to showcase the technique, which dates from the Tang Dynasty (AD 618-907).
Lu said that about 30 international journalists had visited his booth by Thursday afternoon and that most had showed great interest in his team's brushwork.
Wang Lei, who displayed his skills at paper-cutting during the 2008 Beijing Olympics, also appeared at the convention center to demonstrate his art.
"This time I'm showing it to journalists and I hope they can learn more about Chinese culture," he said.
The main conference venue at Yanqi Lake, a scenic spot in the northeastern Beijing suburb of Huairou, has also been decorated in the Chinese style with relief sculptures, Chinese paintings and jade ware.
The organizing committee has also prepared cultural gifts for delegates.
Wang Dong, a staff member of the committee, was quoted by Beijing Morning Post as saying, "We hope all the guests can take some of their memories and impressions of China back home with them after the meetings."