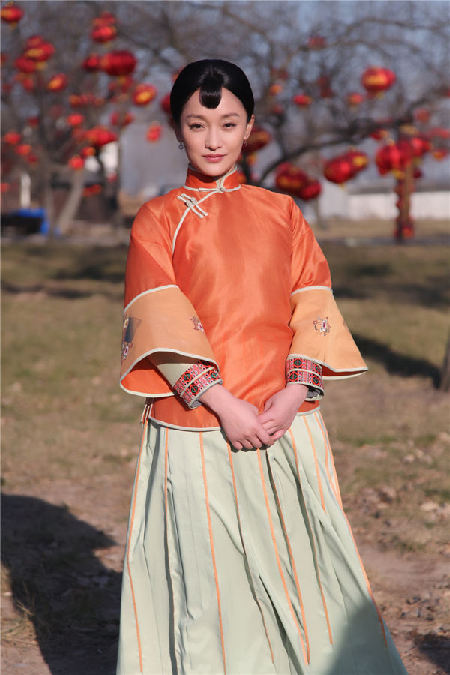 The 40-year-old film star Zhou Xun plays a 19-year-old protagonist in the 60-episode TV series Red Sorghum. Photo provided to China Daily
Perhaps her greatest challenge was contending with the legacy of Gong Li, who became an instant superstar for playing Jiu'er in the 1987 namesake film that won a Golden Bear at the 1988 Berlin Film Festival.
Gong, who's 1.68 meters tall and has a fuller figure, fits the archetype of Shandong women as tall and robust.
Zhou is slender and petite.
But she says she doesn't need to compare herself with Gong.
"I respect and admire Gong Li. I've watched all of her films and even a performance of hers at a film-shooting location," Zhou says. "I believe my Jiu'er supplements hers."
Zheng points out Zhou also has Mo's support.
"Mo was very satisfied when he heard Zhou would take the role. He revealed the fictional character was based on his grandmother, who was even shorter than Zhou."
Huang Xuan, who plays Jiu'er's first boyfriend in the series-even though he's 11 years her junior-says Zhou is straightforward and her sincerity is "touching".
The actress is known for wearing her heart on her sleeves. Her last sensational public revelation of her private life came in July when she attended a charity show in Zhejiang's provincial capital Hangzhou clad in a wedding gown and announced she married Chinese-American actor Archie Kao.