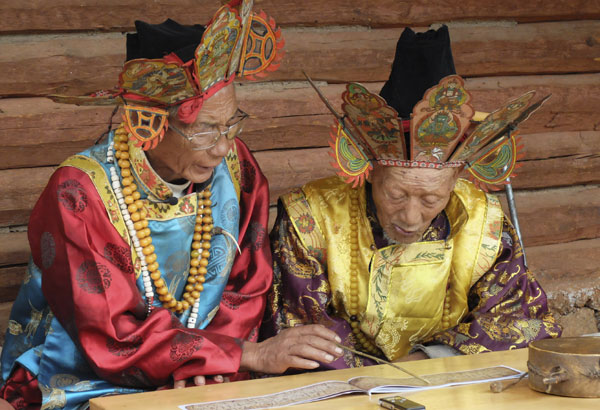 Xi Shanghong (left), 72, and He Zhiben, 87, are two of the Dongba shamans who can read the ancient pictographic manuscripts.[Photo proviced to China Daily]
Experts are racing against time to keep alive the world's last pictographic writing form—that of the Dongba shamans of China's ethnic Naxi group. Wang Kaihao reports.
If a picture's worth a thousand words, the world's last pictographic language says volumes about the traditional Naxi culture.
But experts fear this historical portrait of the Chinese ethnicity will be erased from modern times without more international partnerships.
The manuscripts created by the Naxi's Dongba shamans in Yunnan province record religious ceremonies and traditions. They were a focus of the session on cultural heritage's digitization at the 5th International Symposium on Test Automation & Instrumentation in Beijing in September.
"Time is running out," Beijing Association of Dongba Culture and Arts head Zhang Xu says.
Zhang says she found only two shamans—both elderly—practicing rituals according to the scriptures during a visit to a mountain village in Yunnan's Shangri-La county.
"It's similar in other villages," she says.
"If we don't hurry, nobody will know what the manuscripts say. Those who do are passing away."
The pictographic manuscripts were inscribed on UNESCO's Memory of the World Heritage list in 2003.
Zhang's association joined other domestic institutions to start a database to collect manuscripts in 2012 and plans to finish by 2017.