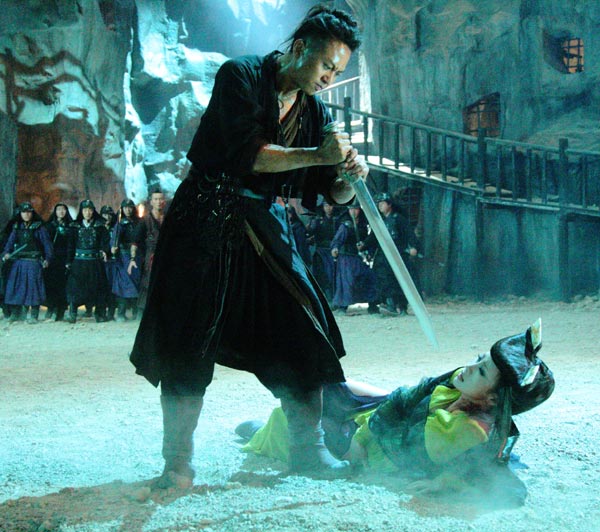 A scene from the martial arts film The Four 2. Photo provided to China Daily
The reports cites the youth romance flick
Tiny Times
and the martial arts film The Four 2 as examples in which this demographic contributed to commercial success. While neither won much critical acclaim, they catered to small cities' audiences.
"New media now have a strong market influence," the reports say.
"More fictional TV network programs have been adapted into films, and online marketing has become crucial."
The reports revealed matinee attendance is low. They suggest daytime scheduling should appeal to the middle-aged and senior citizens of China's graying society.
The reports identified problems that loom amid the boom.
"Today's movies cash in on what's popular, such as comedy and romance, and neglect the artistic aspects of filmmaking. Some are short in storytelling skills. Action movies, especially historical action movies, have declined in popularity. There were many low-budget comedies whose quality was concerning."
The reports also point out the youth-oriented films that have contributed much to the market's lack of strong emotional drive and creativity. They are extremely similar to one another.
For instance, a total of eight films about bachelor's lives were screened around Nov 11, China's "Singles Day".
"If movies with youth themes remain shallow, they will ultimately harm audience's fragile confidence in this genre that is new to China."