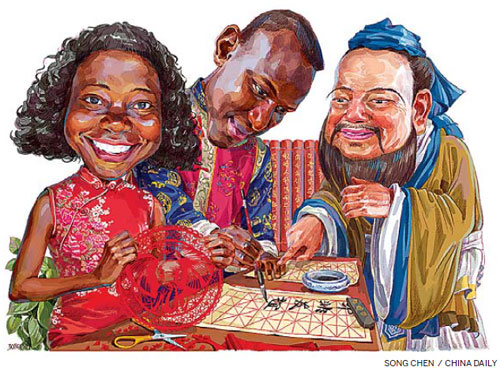 China's most celebrated sage has become the emblem of the country's soft-power drive and of its people-to-people diplomacy in Africa. Todd Balazovic reports.
In Africa, it's Chinese businesspeople who sign multimillion-dollar deals, top politicians who sign major cooperation agreements and people who embody China's most famous thinker who act as cultural ambassadors. The Confucius Institute, China's government-sponsored language and culture program, is acting as a link for those looking to engage China outside the realm of business and politics as Africans across the continent take up Chinese-language studies.
The institute, which turns 10 years old this September, is run by the Chinese National Office for Teaching Chinese as a Foreign Language, also known as the Hanban. In less than a decade, its presence on the continent has gone from zero to more than 38 institutes and classrooms in 26 countries. Africa's first Confucius Institute was established in 2005 at the University of Nairobi, Kenya.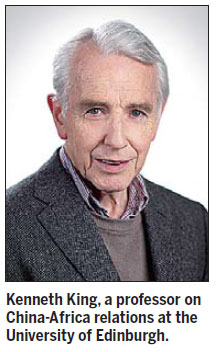 "Africa has become the place where the Confucius Institutes are growing most rapidly and enthusiastically," Xu Lin, director-general of the office of the Chinese Language Council International and chief executive of the Confucius Institute Headquarters in Beijing, said at a recent media event.
The institute's growth in Africa parallels the rapid growth in trade between China and the continent.
Last year, China-Africa trade reached $210.3 billion. During Premier Li Keqiang's recent four-nation trip to Africa, he urged both partners to boost bilateral trade to $400 billion by 2020. He identified six key areas of cooperation, and cultural exchanges seem to be the one in which both sides appear poised to make considerable progress.
As the number of infrastructure projects funded by China in Africa nears 300 - all are "hard power" projects - the Confucius Institute is perhaps the flag-bearer for China's soft power and people-to-people exchanges on the continent.
"In practice, increasing (China's) soft power in Africa means strengthening the cultural exchanges so Chinese and Africans get to know one another better," says Lu Shaye, director-general of African affairs at the Ministry of Foreign Affairs.
"Africa plays an important role in China's diplomatic strategy. And, accordingly, increasing China's soft power in Africa is very important."
The Confucius Institute is often compared with organizations such as the United Kingdom's British Council, Germany's Goethe Institute, France's Alliance Francaise and Spain's Cervantes Institute, most of which have been around for many decades. But it's a relative newcomer to the globe's national culture associations club.
In its short life, the Confucius Institute has cast its net wide, opening more than 440 branches and 640 classrooms - a sister program aimed at secondary education - in 120 countries.
By 2011, China had spent more than $500 million on Confucius Institute programs. In six years, the program hopes to double the current 440 institutes worldwide, with a goal of reaching 1,000 by 2020.