Full marks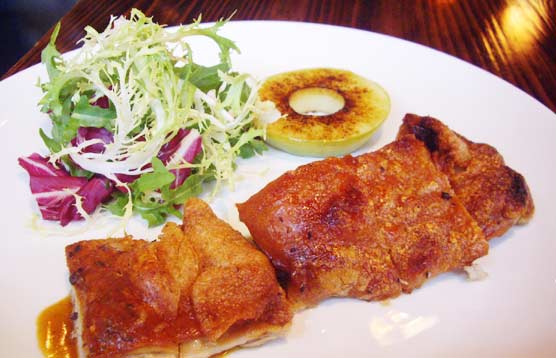 The roasted Mediterranean-style suckling pig is a signature dish at the restaurant. [Photo by Rebecca Lo / For China Daily]
Half & Half emphasizes its Mediterranean inspiration in dishes, and serves equal portions of half bottles of wine for pairing. Rebecca Lo gives it top scores.
Kennedy Town is Soho without the pretension. It seems that every time I go west, I discover a new restaurant that makes the journey worthwhile. With the northern side of Davis Street now bursting with international flavors vying for attention, its southern side is undergoing rapid transformations that will soon make it one of Hong Kong's eat streets.
Half & Half opened last August and bills itself as a neighborhood wine bar. Located on the leafy corner of Davis and Forbes streets, it is perfect for after-work drinks, a romantic meal for two, dinner with family or Sunday brunch with friends.
The space is typical of Soho restaurants: Long and narrow, it is dominated by a bar and an open kitchen that takes up one rear corner. A portion of the kitchen facing the main entrance is devoted to a walk-in wine cellar, with its careful selection by the restaurant's manager Shin Chan.
Chan, a chatty former sommelier who worked at five-star hotels and wine bars before Half & Half's director Elle Lei hired him, stopped by my table to introduce his restaurant's concept. "Our dishes are inspired by the Mediterranean," he says. "Our chef Tim Ho previously worked for Umberto Bombana," referring to the three-Michelin-starred Hong Kong-based Italian chef.
"All of our wine comes in half bottles, as we specialize in wine pairings. We feel that wine and food each form half of the whole experience."