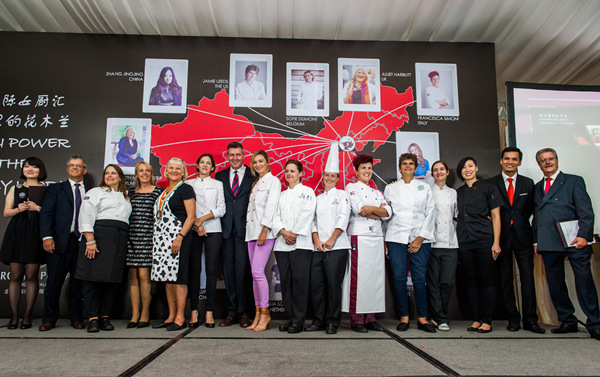 Internationally renowned female chefs take part in an event at Crowne Plaza Beijing Sun Palace on June 23. Photo provided to China Daily
Eleven of the world's best female chefs will present their signature dishes and three renowned artists share their unique styles at Crowne Plaza Beijing Sun Palace over the next week.
On June 23, Crowne Plaza Beijing Sun Palace announced the opening of "Women Power in the Culinary World", a gastronomy celebration in Beijing.
On June 27, a charity reception named "Culinary, Art and Fashion" will be held, along with Project Hope. All the funds collected during the event will go to support young dropouts in poverty-stricken areas through Hope School, vocational education and scholarships for college and university.
The hotel will also host cooking classes, wine dinners and a gala dinner on June 28.
The team of internationally renowned chefs hail from around the world. Included is three-star Michelin chef Sofie Dumont, who was the first female finalist in the culinary competition "Prosper Montagne" and "Chef of the Year 2009" in Belgium.
Award-winning master chefs Jamie Leeds from Washington, Nelly Grossi from Abu Dhabi, artisan cheese expert Juliet Harbutt and one-star Michelin sommelier Saskia Schurink will also take part.
Creations from Dutch artist Margareth Meulmeester and Chinese fashion designers Luna Li and Zhang Jingjing will complement the cuisine.
To book for events, call 6429-8888 ext 6668.