Checking out organic choices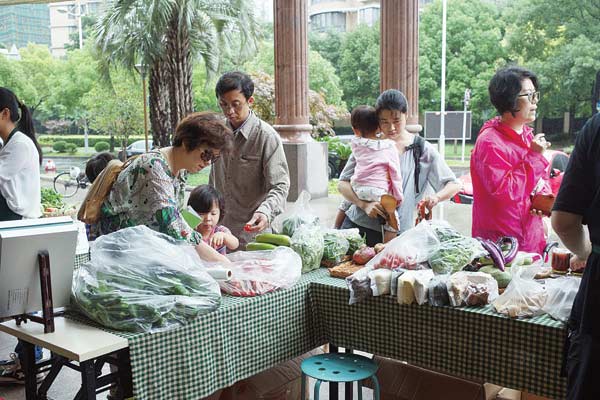 SAFE FOODS: Families with young children check out the Farmers' Market.[Photo by Gao Erqiang / Shanghai star]
It was pouring with rain, but it did not deter eager shoppers at the Gubei Civic Center, Changning district. They dodged the drizzle and braved the wet, all for the sake of getting their hands on fresh organic produce from small farms in Chongming Island, Qingpu district and even Zhejiang province.
This is the Shanghai Nonghao Farmers' Market.
Buyers and sellers here are very civilized, there is none of the haggling or bargaining that goes on in normal markets. Environmentally conscious shoppers bring their own shopping bags and baskets, and politely chat with stallholders. Just as carefully, they choose from the selections of vegetables, fruits, eggs, beans, homemade strawberry jam, sesame oil and chili sauce.
The produce is certified organic not by the authorities but by the market organizers, a team of volunteer agricultural experts and advocates who verify by visiting the farms to test the soil and manure and make sure all crops are cultivated in?an organic way, according to Ma Xiaochao, one of the organizers.
"It is built on the trust between growers and consumers," Ma says, adding that the market is a platform where the farms can showcase their produce and win more long-term clients.
For Yi Yu, an expectant mother in Shanghai and a loyal fan of the organic market, the taste of the vegetables speaks for itself.
When Yi came back from California a few years ago, she felt that the tomatoes, cucumbers and lettuce she bought from the supermarket were tasteless and insipid.
It was on a visit to the farmers' market that she discovered what she was searching for. From then on, almost all ingredients used in her family meals have come from the small farms.
"My husband and I drove to the farms and talked to the farmers. Two of them became our long-time suppliers. And we are friends now. I believe that only when the growers are reliable, the fruits can be reliable," Yi says.
The price of vegetables in this market is around 30 yuan ($4.82) per kilogram, nearly triple that in ordinary markets. But this is affordable to the market's main customers, who are mostly established, relatively young, and looking for quality of life, Ma says.
Chen Min, 31, a voluntary helper for Jianfa Farm, says their produce is definitely worth paying for. The 7-hectare farm is located at the foot of Moganshan Mountain in Deqing country, Zhejiang province.
Here, they apply the most traditional way of rearing crops using natural fertilizers and manual pest control. Ripening agents are forbidden, and the crops are allowed to slowly mature, even at the risk of pests and diseases.
As the most popular organic-food market in Shanghai, Nonghao has seen its 60th market since it was established in 2011. The weekend market is now held at two fixed places at least twice a month. Organizers are still searching for more free sites nearer downtown so it is more accessible.