Confucius Institute reopens in Kabul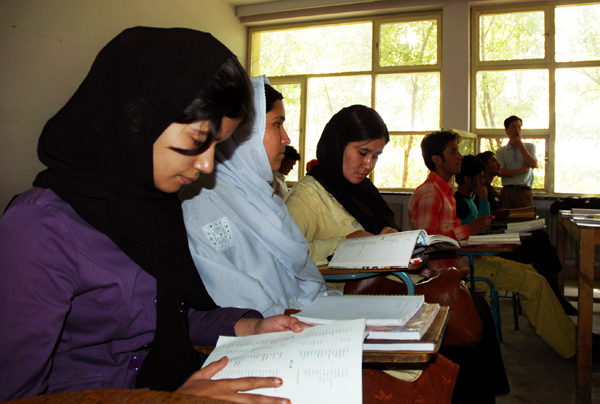 Local students learn Chinese at the Confucius Institute of Kabul University in September 2008. The school, the first Confucius Institute in the country, was closed for 18 months from October 2010 because of incessant violence. It was re-opened on Sunday. Zhang Yunlong / Xinhua News Agency
The Confucius Institute of Kabul University reopened on Sunday after being closed for 18 months, marking the enhanced Sino-Afghan cultural exchanges.
Related: Confucius worship ceremony held in Qufu
Addressing the reopening ceremony, Xu Feihong, Chinese ambassador to Afghanistan, congratulated the Confucius Institute on its comeback to this war-hit nation, saying it marks significant progress in relations between the two nations.
Xu said that the young generation of Afghanistan symbolizes the future and hope of the country. The friendship between China and Afghanistan also needs to be carried forward and passed down by youths.
"China and Afghanistan are good neighbors, friends and partners. The exchanges between the two peoples date back as far as 2,000 years," Xu said. "I wish all the students from the Confucius Institute a promising future and hope that they can continue helping promote the bilateral ties, after the two governments upgraded their ties to the level of a strategic and cooperative partnership last year."
Habibullah Habib, president of Kabul University, expressed his gratitude for China's efforts in bringing the Confucius Institute back to Afghanistan, saying he felt honored to witness the reopening of this cultural promotion institution in Kabul University.
"China and the Chinese language both play an important role in the international arena," he said. "I hope the Chinese learners can contribute to the bilateral friendship by learning this language well."
Ma Li, a 19-year-old female student, told Xinhua that she received family support to learn the Chinese language and she hopes to be a proficient speaker after graduation.
The Confucius Institute in Kabul University was launched in January 2008 and was halted in October 2010 due to security concerns.
Currently, one teacher from China and two other Chinese instructors are teaching Mandarin to around 100 Afghan learners at elementary levels.