Mandarin makes its voice heard in South Africa
Chinese is no longer a strange language in South Africa.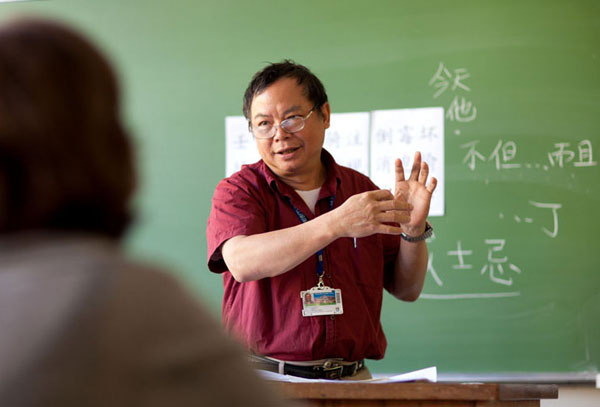 Wu Qianlong, director of the Confucius Institute at the University of Cape Town, gives a lecture on Chinese to South African students. Provided to China Daily
Simple Chinese words can be heard when walking the main streets of Cape Town, arriving at passport control at Johannesburg airport, and while negotiating commodity prices in Durban.
An increasing number of South Africans are willing to learn Chinese language, culture and philosophy, and Confucius Institutes, a global Chinese-language learning network managed by the central government, is committed to teaching foreigners the language and immersing them in oriental culture.
Confucius Institutes, named after the renowned educator and thinker in ancient China, cooperate closely with foreign universities and schools to promote Chinese-language learning and cultural exchanges.
Professor Wu Qianlong, Confucius Institute director at the University of Cape Town, says the institute isn't new in South Africa or elsewhere in Africa, as many people, especially university students, have already begun learning Chinese through this platform.
Before arriving in Cape Town in 2010, Wu was a professor of English literature at the English education faculty of Guangdong-based Sun Yat-sen University.
The Confucius Institute he leads has three Chinese lecturers and one local administrative officer. His wife and son are living in China and have visited him each year since 2011.
Under the management of the foreign language department of the University of Cape Town, the Confucius Institute was set up there in 2010.
It holds two Chinese-language classes as a selective course for first- and second-year undergraduates. Eighty-five students are learning Chinese in these two grades and more than 220 have signed up for the course since 2011.
"We have seven classes each week and exam results will be logged as credits to students' academic records," Wu said.
Tough challenge
After giving several lectures in 2010, Wu found South African students speak different native languages because they have different linguistic backgrounds. This presented a strong challenge.
South Africa has 11 official languages: Afrikaans, English, Ndebele, Northern Sotho, Sotho, Swazi, Tswana, Tsonga, Venda, Xhosa and Zulu, with languages such as Dutch, Korean and Hindi also spoken in major cities.
Related:
Moscow residents learn Chinese language, culture at new center