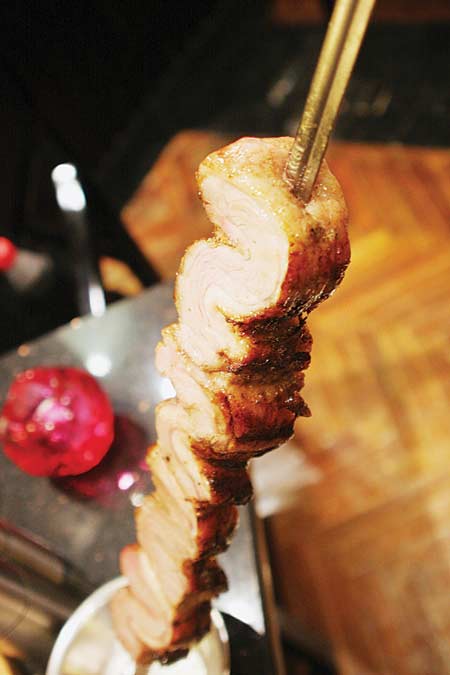 SKEWERED: Grilled meat is a staple. [Photo provided to Shanghai Star]
Curious to try Brazilian food or looking to toast your favorite team with a Brazilian cocktail? Xu Junqian finds a slice of the Latin American country right here in Shanghai.
You can't mention Brazilian cuisine without mentioning churrasco, the sizzling grilled meat served sliced straight off the skewer. Brazilian barbecue is distinguished from the Korean or Turkish versions by its distinctive serving style.
Churrasqueria, or grill houses, feature waiters and waitresses in cowboy outfits, walking around with skewers and slicing meat, hot from the grill and sizzling with oil, onto the plate of their customers.
Most churrasqueria are also all-you-can-eat venues. Common ingredients for the grill include beef, lamb, pork, chicken and sausages, with a variety of sauces and salts available for seasoning. Brazillian churrasqueria are numbered even in a food metropolis like Shanghai.
The decade-old Latina is usually the best, if not the only choice, while various small eateries open and close with the waxing and waning of the moon.
Latina
Grand Gateway Plaza, 1/F, 1 Hongqiao Road, near Zhaojiabang Road, Xuhui district
021-6447-2260
The Square
2F, 728 Pudong Avenue, Pudong district
021-5036-6666-1823
Baxi Barbecue House
1 Wanhangdu Road, near Yuyuan Road 
021-6255-9898