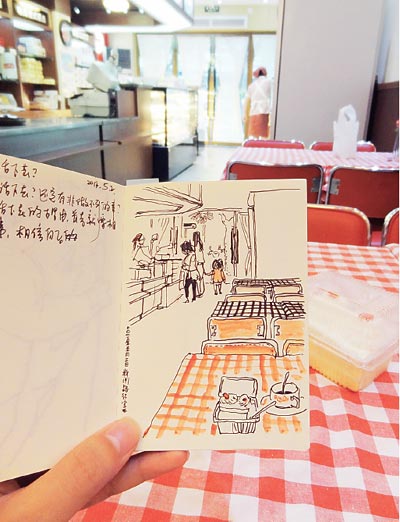 Ruby's Foods at Xinzha Road.
The "little cream cube", or sponge cream cake, from the time-honored bakery Ruby's Foods, is a sweet memory for Hong and many other children of Shanghai. Hong likes wandering along the road and enjoying afternoon tea at this shop with its elegant red-and-white checkered tablecloths.
Address: 1384 Xinzha Road, Jing'an district
Photo provided to Shanghai Star
When Hong Xiao entered Shanghai Xuhui Middle School in 1997, he was amazed by the majestic four-story school building, built as early as 1918.
But then he found the building, as well as its grassy playground, were gradually overshadowed by high-rises sprouting around the school, where the prosperous Xujiahui commercial center was taking shape.
"From then on, no sunlight shone directly on our school anymore. It was then that I felt how drastically the city was changing," recalls the 28-year-old man, whose family has lived in Shanghai for generations.
The incident planted a belief in his mind that despite the city's strides towards modernity, its real charm lies in the old houses and secluded lanes he was familiar with. For this reason, Hong, who learned painting at a young age and majored in art design at Shanghai Tongji University, spares no effort recording the traces of old Shanghai in his sketch book. Hong said he was greatly inspired by his first painting teacher, who loved old houses and would bring him sketching.
He especially loves the Western-style old villas built in the 1920s and 1930s located in Huashan, Changle, Fumin and Julu roads.
"I am most impressed by the details of the old villas—it might be a pair of slippers at the doorstep, a milk box nailed on the front wall, or colorful laundry drying overhead on bamboo poles. The elements that recall the daily life of Shanghai give the villas local flavor and a strange harmony," he says.