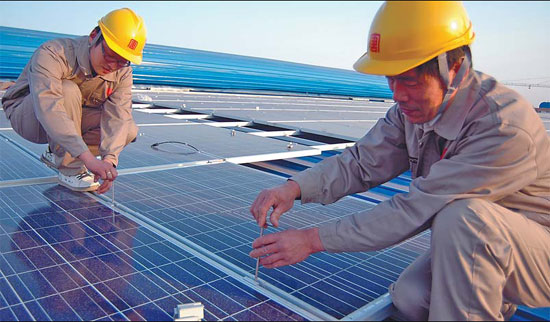 Technicians install solar panels in Liaocheng, Shandong province. China's Ministry of Commerce said on Thursday that it has launched anti-dumping and anti-subsidy investigations into imports of solar-grade polysilicon, a main material in solar panels, from the European Union. Zhang Zhenxiang / For China Daily
China announced on Thursday that it will begin an anti-dumping and anti-subsidy investigation into European imports of solar-grade polysilicon, an important component in solar cells.
The decision is expected to worsen China's trade row with the European Union, which is conducting a similar inquiry into Chinese solar products.
The Ministry of Commerce said in a statement that the latest investigation will be combined with one that started on July 20, also to look at polysilicon imports from the United States and South Korea.
The latest investigation comes as the most recent move in a series of trade disputes between China and its Western trading partners. The bones of contention have included automobiles, steel and rare-earth minerals.
The case was filed at a time that Chinese solar panel producers have struggled to keep going after the United States levied heavy duties on solar products from China in October. This year, the US Commerce Department announced penalties that included anti-dumping taxes levied at a rate of between 18 percent and 250 percent, hoping to offset the effects of Chinese firms' alleged unfair advantages.
The European Commission also started an anti-dumping investigation into Chinese solar products in September.
"There will be no winner in this trade row," said Meng Xiangan, deputy director of the China Renewable Energy Society. "Both sides will lose."
"The trade dispute is not a purely economic issue, but also has something to do with politics and national strategy. Western countries' investigations are aimed at containing China's rise, and China has to react."
The investigation will also look at the subsidies EU producers and exporters have been alleged to receive, as well as whatever damage protectionist policy may have caused Chinese companies. The findings will help the ministry "come to a just ruling according to the law".
The investigations were launched in response to complaints by Chinese polysilicon producers. Among other things, the companies contended that EU firms had received German government subsidies and favorable loans from the European Investment Bank, a separate ministry statement said.
European companies that may have been affected by China's investigation, if they want to respond to the accusations leveled against them, must register with the Ministry of Commerce within the next 20 days and then report the value and quantity of the products they sold in China between July 1, 2011, and June 30, it said.
The ministry aims to complete the investigations in a year or, if unusual conditions arise, in 18 months at the most, it said.
The row in the solar sector between China and the European Union escalated after Brussels began an investigation in September into whether Chinese companies were selling panels in Europe for up to 80 percent below cost.
EU ProSun, the solar industry trade group that called on the EU to conduct an anti-dumping investigation, has also filed an official complaint with the European Commission, the EU's executive body, alleging that illegal subsidies had gone to Chinese firms.
Beijing reacted sharply to the EU investigation, warning that the placement of restrictions on Chinese solar battery products will serve no one's advantage.
More than 60 percent of China's $35.8 billion worth of solar product exports went to the EU last year, according to Chinese industry figures, and the country imported $7.5 billion worth of European solar equipment and raw materials.
According to customs statistics, China imported 64,496 metric tons of polysilicon during the first nine months of 2012, an amount up 32.86 percent up year-on-year. That was more polysilicon than China had imported in the entire previous year.
Germany, for its part, exported 16,047 tons of polysilicon to China in the first three quarters of 2012, when the material had an average price of $31.86 a kg.
The China Nonferrous Metal Industry Association estimated that China will produce 60,000 tons of polysilicon this year, an amount down 25 percent year-on-year. One reason cited for the expected decline is the competition the polysilicon industry faces from imports.
In contrast, China is forecast to import 85,000 tons of the material this year, an amount up 30 percent from last year. As much as 95 percent of those imports are to come from the US, South Korea and the EU, the association said.
Assuming polysilicon costs from $23 to $25 per kg, China's investigations will involve $2.1 billion worth of the material.
The association said only seven to eight Chinese polysilicon producers are now operating and most of them have stopped production.
Another polysilicon producer, which declined to provide his name, said the US and EU investigations have affected China's solar industry, forcing China to react to them. Asked if he thinks China's action will benefit his company, he said he can only wait and see.
"Most supply contracts are for the long term," he said. "So it may not have any immediate effects."
AFP contributed to this story.
dujuan@chinadaily.com.cn