Tribunal offers troubled couples in Tibet advice and assistance
Even an upright official can find it difficult to settle a family quarrel, as the Chinese saying goes, which shows that trivial domestic affairs can be very tricky.
But Wang Xuehong, the presiding judge of a tribunal set up exclusively for family affairs in the Tibet autonomous region, has taken on the tough job of helping couples, many of them from the Tibetan ethnic group, save their marriages.
The tribunal, the only one of its kind in Tibet, was set up by the Chengguan district people's court in Lhasa in December, in response to an increasing number of family disputes that involve divorce, division of property, custody of children, and obligatory care for parents in the autonomous region.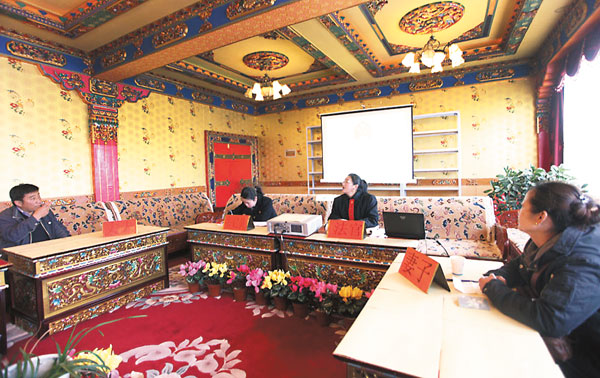 Court officials at a tribunal set up exclusively for family disputes in Lhasa, in the Tibet autonomous region, mediate between an estranged couple on April 19. The Chengguan district people's court in Lhasa established the family tribunal in December. Provided to China Daily
Because of effective mediation by Wang and other tribunal officials, 20 couples dropped their divorce requests, 39 couples reached divorce by consent, and five couples were divorced by court decree, since the tribunal was founded.
In China, there is a tradition of trying to help an estranged couple reconcile rather than having them separate, the veteran official said.
"Some people rush to divorce in a rage, and threaten their spouses by declaring: 'This is not a big deal. I can live well without you.' Such relations are usually remediable," she added.
Wang, from the Han ethnic group, has been working as a judge at the district court since 1995, following years of work experience in an intermediate people's court in Tibet's Xigaze prefecture.
The 50-year-old grew up in Tibet and speaks fluent Tibetan. Her team at the tribunal consists of three other women - two Tibetans and another Han, all with law-school diplomas.
The bulk of their work is to try to help estranged couples reconcile and make them start over again.
Following heart-to-heart conversations presided over by court officials, couples often cool down and quickly drop their divorce requests, Wang said.
To that end, the court decorated a special room in the traditional Tibetan style to help couples relax and open their hearts. In this cozy chamber similar to a typical living room in Tibetan houses, couples can rest on couches and talk over a cup of tea.
The offer of some hot buttered tea - a local specialty - and sincere conversation in the room have helped at least one man win back his wife's heart, in April.
The couple, both ethnic Tibetans and each with one child from their previous marriages, headed to the tribunal after the woman could no longer stand the man's verbal and physical abuse.
The quick-tempered man, who showed his loyalty to the woman by chopping off a little finger, suspected the woman of infidelity and started big arguments because of it, the wife said.
After seeking legal assistance several times, the woman decided to take the matter to court. But after the mediation of tribunal officials, the husband realized his suspicions were groundless and asked for his wife's forgiveness. And the woman was quick to accept it.