Three young bachelors have posted their pictures and personal information on a billboard on a bustling Beijing street and are waiting for calls from their future wives.
Novel approaches to find dates are becoming popular among young people, but not everyone approves of the new trend.
The oversized lonely-heart advertisement has been up in Zhongguancun, China's "Silicon valley" in Beijing, since the Qixi Festival on Aug 23, the traditional Chinese day of romance.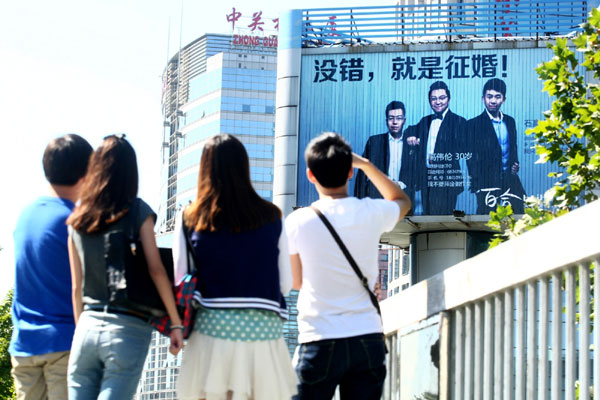 Pedestrians look at a billboard displaying the photos and personal information of three bachelors' seeking marriage, in Beijing's Zhongguancun last week. Fu Ding / for China Daily
Gao Weilun, 30, the CEO of an IT company in Beijing, said on the billboard that he does not want a gold-digger girlfriend.
"I don't have time to find a suitable girlfriend because of my busy schedule and limited choices," Gao said.
"Besides, I think it's acceptable to post my requirements and cell phone numbers on a billboard. We need to have the courage to tell others what we want in love."
All three bachelors agreed to post their statuses and requirements this way, he added.
Also appearing on the billboard are Zhang Yang, 27, and Shi Ying, 33. The costs of the billboard will be divided between the three bachelors and dating website, Baihe, which submitted the proposal and arranged the advertisement.
Renting the billboard for a month will cost each of the bachelors about 50,000 yuan ($7,870).
"I felt a little overwhelmed by so many calls in four days, from women who want to be friends with me, and even from their relatives, who recommended someone to me," Gao said.
So he decided to put finding a girlfriend aside for a while.
"Besides, I received a call from a woman I used to love, who was also my classmate," he said. "Thanks to this advertisement, she found out I'm still single and available, so now we are back in touch."
Many people believed the billboard was just a website promotional gimmick. And not everyone approves.
Jerry Li, a marriage counselor and founder of the counseling website Astrojerry in Shanghai, said finding a wife this way is not acceptable at all.
"It's like showing off wealth and status instead of searching for mates seriously. Their attitude about love is totally wrong," he said.
Other experts agreed.
"It may work for some people, but I suggest people find their mates through traditional methods, like seeing people introduced by their friends and relatives or participating in some activities face-to-face," said Chen Junti, an expert in marriage from 86888688.com.cn, a nonprofit dating website in Beijing.
Wang Zhiguo, a marriage expert with Baihe, acknowledged that the billboard is a promotion for their website, which has more than 47 million registered members.
"But more importantly, this advertisement provided opportunities for them. It's a win-win program," he said.
Because the billboard project worked, the company may seek other singles, perhaps women, in subsequent similar projects.
They found that more and more young people would like to find dates through non-traditional ways like posting advertisement on streets or vehicles.
"Every weekend, hundreds of people come to be interviewed to participate in Feichengwurao, or You Are the One in English, a reality TV dating show, where they can show themselves and get feedback afterwards," Wang said.
Young people, especially those born in the 1980s, are more willing to be vocal in love, and have the courage to challenge themselves and insist on doing what they are pursuing, he said.
"This is the root reason why the new and high-profile way of getting a date is more and more popular."
He also admitted that nontraditional ways of finding dates may not be suitable for everyone.
"People have to be able to afford the cost of delivering their desires on billboards or other media first."
Many people in big cities like Beijing and Shanghai have to work for several years before they are ready to support a family.
"At that time, they find that they are in their 30s, and have passed their best years to get married," he said.
"Besides, many people set up too many requirements for prospective mates."
The number of men of marriageable age will outnumber marriageable age women by 30 million in 2020, according to a report released in 2007 by the National Bureau of Statistics.
"A tough situation for marriage at that time," said Wang.
zhengjinran@chinadaily.com.cn