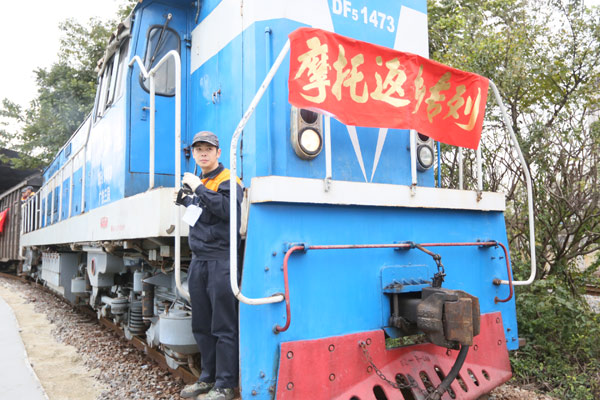 A train loaded with motorcycles of migrant workers departs from a railway station of Foshan, South China's Guangdong province, Jan 26. [Photo/CFP]
A cargo train carrying close to 200 motorcycles left Foshan, South China's Guangdong province, Tuesday for neighboring Guangxi Zhuang autonomous region, reported Chinanews.com. This is the country's first special train for motorcycles, and these motorcycles belong to migrant workers working in Guangdong and are going back to their hometown in Guangxi for the Spring Festival.
Every year, more than half a million migrant workers in the Pearl River Delta, an economic hub in South China, travel home by motorcycle to neighboring provinces and regions during the Spring Festival rush to keep their costs down as well as due to a shortage of train tickets. They have to endure the long, uncomfortable journeys full of perils.
To ensure a safe journey for the motorcyclists, this special train for motorcycles was arranged by Guangzhou Railway Group.
Those who apply for motorcycle delivery get priority to buy tickets for special high-speed trains, which will run from Jan 31 to Feb 5, one train per day. They are expected to take 3,600 migrant workers and their families home from Guangzhou to Nanning in Guangxi.
The journeys for both the motorcycles and their owners are funded by companies and Guangxi government.
The Guangzhou Railway Corp opened special trains from Guangzhou to Nanning for migrant workers for the first time during the Spring Festival travel rush last year, and this year it added motorcycle delivery service because motorcycles are important vehicles for migrant workers to visit relatives and friends during Spring Festival holidays.
In addition to free train rides, 218 gas stations in Guangdong and Hunan provinces and Guangxi Zhuang autonomous region will provide free petrol to 10,000 motorcyclists heading home for family reunions.
This year's Spring Festival travel rush lasts 40 days from Jan 24 to March 33. It is estimated that 2.9 billion trips will be made during the period, with the majority of people traveling by rail and road.