A 92-year-old Russian-Chinese woman's China connection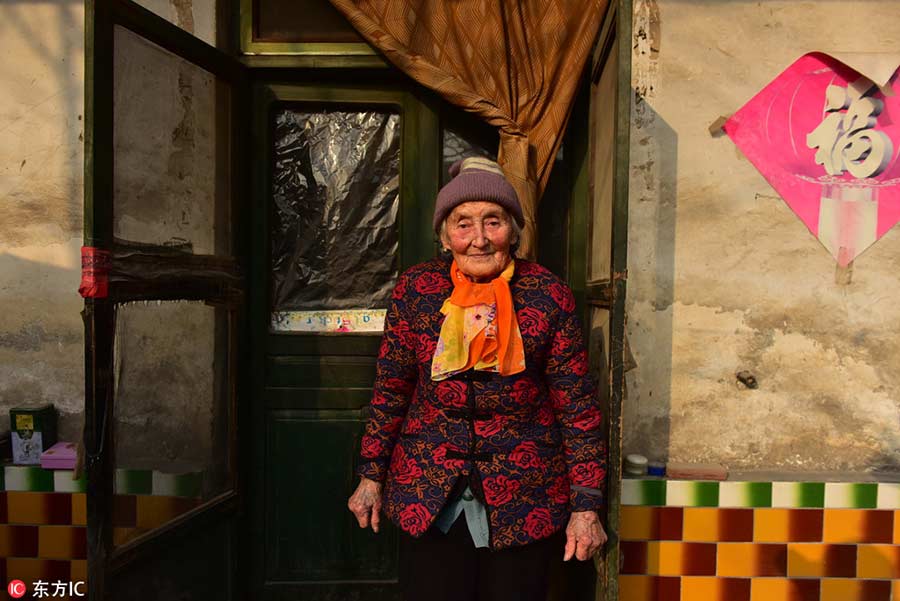 92-year-old Nina stands in the doorway outside of her house in Zibo, East China's Shandong province, Jan 3, 2017. [Photo/IC]
At the age of seven, Nina moved to China from Russia with her parents. Her Chinese father met her Russian mother when he went on a business trip to Russia.
At the age of 17, Nina married Liu Chunshu, who was 20 years older. The couple led a normal and happy life, and adopted a son before she gave birth to a daughter. Her husband gave Nina a Chinese name, Liu Molan (which literally means ink and orchid) and helped her get a local hukou (household registration).
But for Nina, life was hard. Two years after getting married, she lost her parents and elder brother during a war.
After the children grew up and started families of their own, Nina's husband fell ill with paralysis. The couple spent everything they'd saved to treat Liu Chunshu's illness, and Nina managed to make ends meet by searching through refuse to collect items she could resell.
Liu Chunshu died 15 years later and Nina still likes to scavange, an activity that she believes is a good way to exercise. Nina is in good health and has outlived her children. Now 92, she lives alone in Zibo, East China's Shandong province and receives a subsidy from the local government.
When questioning whether she wants to return to her home country, she shook her head. "Though I am not living an affluent life, I am quite content with my life in China," she said.