Trump, Ma discuss Alibaba creating jobs in US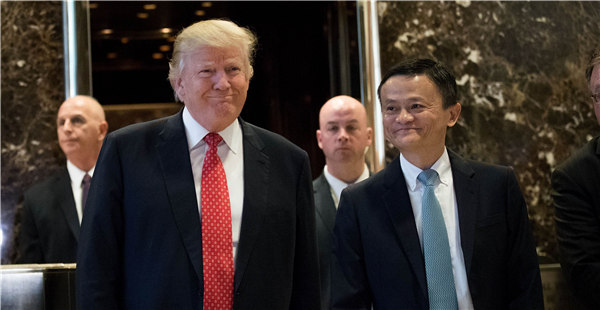 Jack Ma(R), the billionaire founder and executive chairman of the Alibaba Group, met with US president-elect Donald Trump(L) on Monday. [Photo \ Agencies]
Republican presidential candidate Donald Trump often railed against Chinese trade practice during his campaign. On Monday, it was a different approach after President-elect Trump met with Jack Ma, the billionaire founder and executive chairman of e-commerce giant Alibaba Group Ltd, with Trump saying: "Jack and I are going to do some great things".
Ma and Trump met at Trump Tower in New York City, with Trump calling it a "great meeting" and Ma saying the meeting was "very productive".
"We had a great meeting, and a great, great entrepreneur, one of the best in the world, and he loves this country, and he loves China," Trump said. "Jack and I are going to do some great things."
The two met with reporters briefly after the morning meeting, and said they discussed plans to create 1 million US jobs by allowing small and medium-sized businesses to sell to China through Alibaba's platforms.
"We're focused on small business," Ma told reporters.
And he had complimentary words for Trump: "I think the president-elect is very smart, he's very open-minded to listen. I told him my ideas about how to improve trade, especially to improve small business, cross-border trade."
"We also think that the China and USA relationship should be strengthened — should be more friendly," Ma said. "The door is open for discussing the relationship and trade issues."
The meeting was planned to focus on the Chinese e-commerce company's US expansion plans, according to spokespeople for both Alibaba and Trump. Ma had planned to be in New York City on Monday and the scheduling worked out for the meeting, a source told CNBC.
The meeting comes amid tensions between China and the incoming Trump administration. Trump has repeatedly criticized China for its economic policies and accused the country of stealing jobs away from the US. Trump also has said he may raise tariffs on Chinese goods sold in the US.
Ma told reporters that the two discussed allowing US products such as "garments, wine and fruit" to be sold on the platform.
Alibaba has been planning to expand more aggressively into the US. The company has expanded its New York City US headquarters and it has been making a push for international participation in its signature Singles' Day sale.
"One meeting doesn't say a whole lot," Ann Lee, an economics professor at New York University, wrote in an email to China Daily. "Unless the meeting is followed up with meaningful action, it is just a public relations move."
Scott Kennedy, director of the Project on Chinese Business & Political Economy at the Center for Strategic and International Studies, told USA Today: "The purpose of Jack Ma's visit was to frame Alibaba's business with the US in a framework Donald Trump understands, as an innovative company that is creating jobs for both Chinese and Americans. Alibaba's future, in part, will depend on expanding international trade and limiting protectionism and reducing trade barriers is in its deep self-interest."
Kennedy added that "my guess is that Alibaba wants to highlight how it is different from Chinese state-owned enterprises in steel and other traditional sectors, areas that the Trump administration is most likely to target for sanctions as part of its effort to open up China's markets further to US goods and investment. However, Alibaba's situation is actually more complex than the contrast it aims to highlight."
Alibaba stock rose 0.88 percent to 94.72 in the stock market on Monday, above its 50-day moving average for a third trading day.
Amy He in New York contributed to this story.
aiheping@chinadailyusa.com