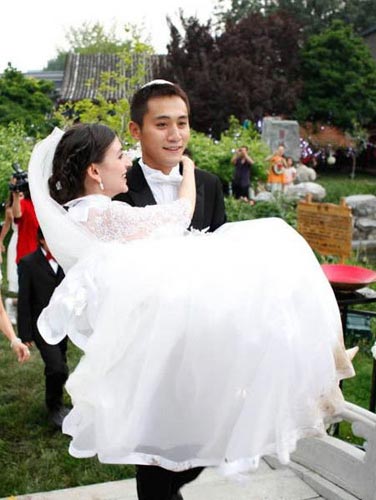 Actor Liu Ye met his French wife in 2006 and they got married in 2009. They had their first baby boy in 2010, and a girl later in 2012. [Photo/People's Daily Online]
Foreign family members of Chinese citizens will be eligible for a two-year residency permit in Beijing based on a family visit visa, according to the Beijing Municipal Public Security Bureau.
The bureau announced a new policy on Tuesday that extends by one year the time allowed under the previous policy. The two-year permits are renewable.
Family members of a Chinese citizen-including spouses, parents, spouse's parents or children, siblings, grandparents, grandchildren and spouses of the children-are now allowed to live in Beijing for two years. Formerly they had to go to the Department of Entry and Exit for an annual renewal.
The policy affects only people whose residency permits are based on a family visit visa. It does not change the time for foreigners living and working in Beijing under a work visa.
Under the new policy, anyone applying for renewal of a residency permit will not be required to hand in certain papers, such as a marriage certificate, to prove a relationship with a Chinese citizen.
The policy is one of a dozen newly adopted measures to streamline procedures relating to foreigners living in Beijing.
Foreign applicants for a residence permit under a work visa are exempt from submitting a copy of a business license of the place they work.
Lin Song, a police officer at the Department of Entry and Exit in Beijing, said foreign applicants need to apply for renewal of their residency in China no more than 30 days before the residency permit expires.
He underscored that foreigners who live somewhere other than a hotel have 24 hours after arrival to register with the local police. The person who accommodates them can also handle the registration.
To assist Chinese nationals traveling outside the mainland, an additional 25 police stations in the city were authorized to receive applications for passports and other certificates for Chinese citizens to enter and exit the country, bringing the number to 47 in its nine districts.
In 2015, the Beijing Municipal Public Security Bureau answered more than 510,000 phone inquiries about issues related to entry-and-exit services, according to statistics.
The bureau said that this year it will work with major Internet companies to publish policies regarding entry and exit.