Cities in the Yangtze River Delta link up to provide convenience to foreign visitors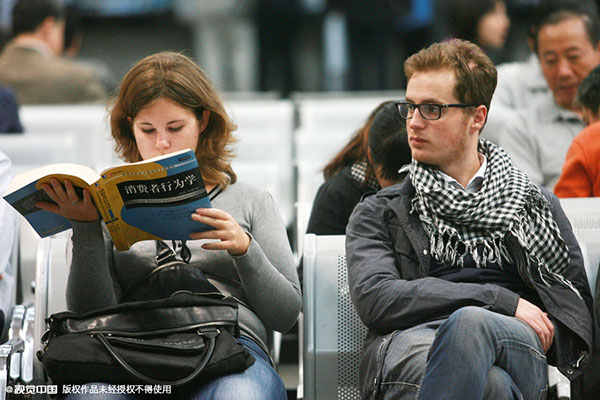 Two visa applicants wait at the Bureau of Exit and Entry Administration in Beijing in this Oct 12, 2012 file photo. [Photo/CFP] 
The country's first cross-region visa-free transit policy will take effect on Jan 30 in the Yangtze River Delta region, according to a statement by the Ministry of Public Security on Tuesday.
The policy gives 144 hours-six days-with no visa requirement to foreign tourists or businesspeople from 51 countries who pass through Jiangsu province, Zhejiang province or Shanghai.
To qualify, a passenger must hold valid international travel documents and booked tickets with confirmed dates and destinations.
Since 2013, Shanghai, Hangzhou, capital of Zhejiang, and Nanjing, capital of Jiangsu, have had a 72-hour visa-free policy to enable tourists to stop and stay without a visa, but only if they entered one of the cities via an airport. Now the entry points have been expanded to include ports and railway stations.
Speaking of Shanghai, Lu Hanlong, a professor at the Institute of Sociology under the Shanghai Academy of Social Sciences, said, "This measure aims to transform the city into a regional leader with global influence, which will attract more foreigners to stop in those places and understand local cultures better."
In addition, cities in the Yangtze River Delta region have created a system of public transportation that allows tourists to travel conveniently between attractions.
Also, high-speed trains in the region enable travelers to get from Nanjing to Shanghai in only an hour and to Hangzhou in just two hours.
"I am excited to hear about the extended visa-free transit policy, as it was quite convenient when I tried the 72-hour one previously, entering Shanghai before heading to Chengdu in Sichuan province. I would like to try it later when I travel to China again," said Jennifer Hammond, a public relations officer from the United States.
"It will definitely attract more foreign people who take business trips to China to apply this method to spend a few more days traveling around as a bonus."