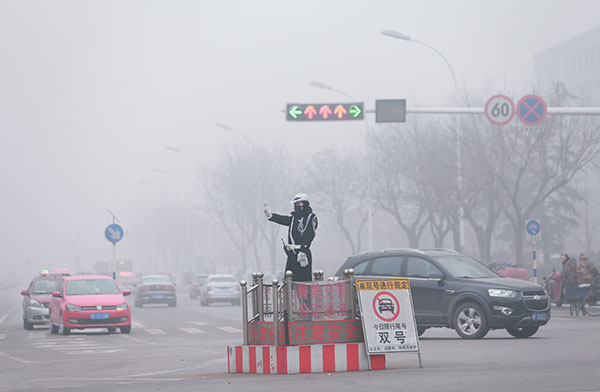 A police traffic officer wears a mask at a crossroads in Baoding, Hebei province, on Dec 25. Lingering smog prompted local authorities to launch a month-long pollution red alert in the city. [Zou Hong/China Daily]
The issue of smog has become a common hot topic at sessions of provincial-level people's congresses across China, the top legislative bodies of provinces and regions, resulting in pledges to reduce pollution.
"When talking about people's livelihood, the first key word that came to me is smog", said Guo Jinlong, Beijing's Party chief, at a panel discussion during the session of the Beijing People's Congress on Jan 23.
"I could not fall asleep when the red alert was issued in Beijing," Guo said.
Beijing will cut the level of PM2.5 in the air by 5 percent this year, and will allocate 16.5 billion yuan ($2.5 billion), up from 5.9 billion yuan in 2015, into projects to reduce air pollution.
These projects include cutting coal consumption in rural areas, phasing out old vehicles with high emissions and shutting down 300 polluting companies, according to Yu Jianhua, chief engineer of the Beijing Municipal Environmental Protection Bureau.
In the neighboring province of Hebei which also suffers from severe smog, the local People's Congress passed the new regulations on air pollution prevention and control in January.
The regulations, which will take effect in March, laid out the plan and standards for local pollution control, specified the responsibilities of all government levels and emphasized cooperation in the Beijing-Tianjin-Hebei region.
Measures the regulations required include metering central heating and charging for it based on the quantity each household uses, as well as preferential use of new-energy vehicles for buses, taxis and vehicles used by governments and for sanitation and delivery.
East China's Shandong province also joined the smog-fighting alliance.
Polluting companies that do not meet emissions standards should be under production restriction or shut down, said Shandong Governor Guo Shuqing, during the local legislative session this month.
To reduce coal burning, it is important to monitor coal-fired power plants and transform boiler emission facilities, he said.