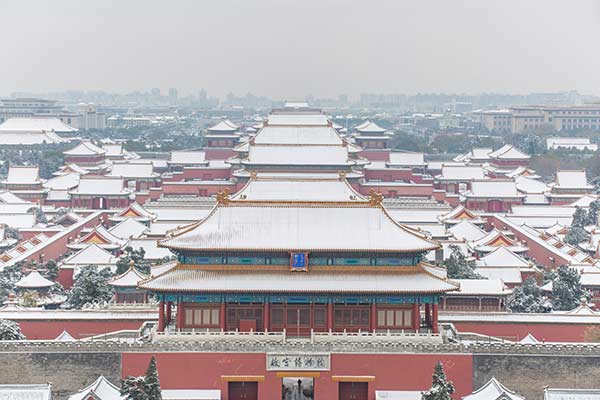 The forbidden city is on the central axis of the city. [Photo/CFP] 
Wetlands for birds and ancient heritage need greater protection in a fast-developing and cosmopolitan city such as Beijing.
Local political advisors discussed how to improve the ecological environment at a panel in the capital.
Guo Geng, a professor at a research center for biodiversity protection in Beijing, said people need to learn more about birds' habitats.
He used the example that some people think a wetland is a wasteland and suggest renovating the land into a lawn or greenbelt or planting trees.
"There are uncountable lives - various birds and animals - using the wetland as their habitat and we cannot take that away from them," said Guo.
He stressed that it helps Beijing to have a diversity of wildlife. He also pointed out people cannot solve problems without thinking about their connections to wildlife.
Reed marshes are common in Olympic Forest Park where much wildlife can be found but Guo had found most reeds had been cut off, leaving only very short roots. Staff at the park told him they cut the reeds to avoid fire hazards.
"It's a very thoughtless act," Guo said,"We should find other ways to prevent fire risks rather than simply ruining the home of the wildlife."
Cui Tiening, a professor at Beijing University of Technology, agreed saying: "We should know our ecological environment better to serve our city."
Cultural relics were another issue discussed during two sessions of the panel.
Beijing is planning to better protect cultural heritage and traditional culture in downtown Beijing, according to local officials.
Huang Yan, director of Beijing Municipal Commission of Urban Planning, said the Dongcheng and Xicheng districts are the core areas of Beijing and that there will be systematic measures to relocate people to safeguard historic treasures.
Wang Shanfeng, head of Xicheng district government, said the district has 182 cultural relics with many dating back to the Yuan, Ming and Qing dynasties.
"Each community is required to report the status of its cultural heritage and any action to damage it will be punished," Wang said.
Meanwhile, the districts have been attaching great importance to protecting the hutong (Beijing alleyways).
Kong Fanzhi, former chief of Beijing Municipal Administration of Cultural Heritage, said the city needs to find a balance between protection of relics and urban city development.
"But now is a great opportunity to focus on protection as Beijing is relocating part of the population from downtown areas to suburban areas that could lessen pressure on this old town," said Kong.
Kong highlighted three things Beijing needs to do to bring out the city's historical charm.
"First, Beijing needs to rebuild some gate towers and city walls that have been torn-down to re-draw the outline of the city; second, we should remove illegal constructions that damage the central axis of the city, which is a unique and beautiful city landscape; last but not least, we need to protect the historical streets and Siheyuan (courtyard house) that are the city's treasure," Kong said.
The central axis or main artery of Beijing was originally a 7.8 km long street along which the city, including the Palace Museum, or Forbidden City, was built to realize an ideal vision in line with traditional Chinese design concepts dating back to the Ming and Qing dynasties (1368-1911).
Kong believes Siheyuan is the essence of Beijing as an ancient imperial city with a long history: "When those old courtyards are gone, Beijing will be gone as a historical town."