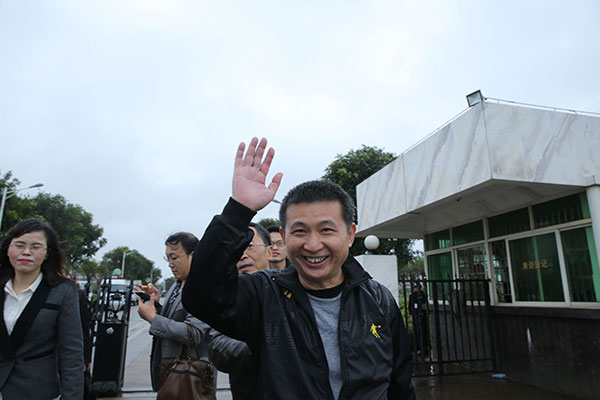 Chen Man waves to the camera after he was released from a prison in Hainan on Feb 1, 2016. [Photo/CFP]
A man who spent 23 years in prison was acquitted on Monday, a top court in Zhejiang province announced on its official micro blog, citing insufficient evidence to sustain the verdict.
The president of Hainan Provincial High People's Court bowed to Chen Man, who was sentenced to death with a two-year reprieve for homicide and arson in November 1994 in the province. The court gave Chen 5,000 as consolation money, and he is also eligible to apply for further compensation from the state.
In 1992, Chen from Sichuan province was accused of killing a man in Hainan and of destroying the evidence by setting a house on fire. Since then, Chen has been detained.
In 1994, the Haikou Intermediate People's Court sentenced Chen to a suspended death sentence, and the provincial high people's court upheld the verdict in April 1999.
From then on, the defendant and his family continued their appeals.
The national top prosecuting authority lodged a protest against Chen's judgment and the Zhejiang Provincial High People's Court retried the case on April 24.
The top court ruled on Monday that Chen should be acquitted because the facts in the case were unclear and there was insufficient evidence, adding that the decision was in line with current Chinese Criminal Procedure Law.
Chen's lawyer and the family said that they have been informed on Monday that they have the right to apply for state compensation for the wrong verdict and they will submit the application in line with laws.
Chen was regarded as the person who was wrongfully detained for the longest time among cases which were disclosed in which defendants were named innocent.
Since 2013, under a rule of law requirement promoted by the central leadership, Chinese judicial bodies have accelerated efforts to correct cases in which there was a miscarriage of justice.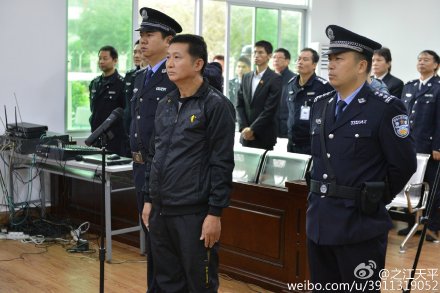 Chen Man is seen in court.