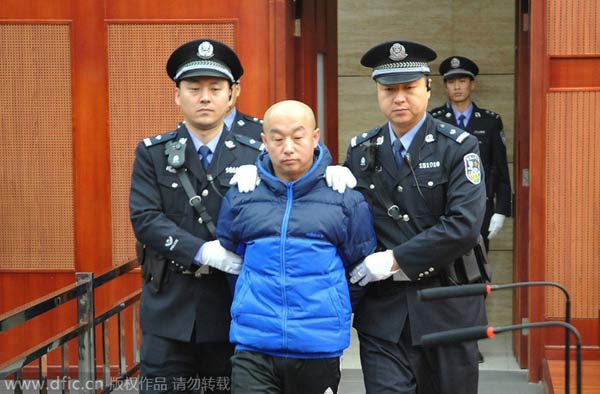 Zhao Zhihong (center) stands trial at Hohhot Intermediate People's Court in North China's Inner Mongolia autonomous region Monday. [Photo/IC]
Serial rapist and murderer Zhao Zhihong, who was behind the crimes for which an innocent man was executed, was sentenced to death for murder, rape, robbery and theft, at Hohhot Intermediate People's Court Monday.
The court deprived Zhao of political rights for life, fined him 53,000 yuan ($8,464) and ordered him to pay 102,768 yuan in compensation to the victims.
Zhao was apprehended in 2005 and confessed to a string of rape and murder cases, including one in a public toilet in Hohhot in 1996 that was pinned on 18-year-old teenager Huugjilt. Huugjilt was exonerated in December 2014, 18 years after his execution.
Zhao first stood trial in late 2006 for raping and killing nine women and girls, seven other counts of rape, as well as robbery and larceny between 1996 and 2005. His trial resumed on Jan 5, more than eight years after his first trial.
According to the court verdict, Zhao committed 21 crimes between 1996 and 2005 in Hohhot and Ulanqab. Besides a series of intentional murders that left 10 people dead, it is alleged he raped a total of 13 women and girls in the period.
Parents of Huugjilt were invited to the trial.
Huugjilt, a factory worker, was 18 at the time of his conviction and execution. He was found guilty of raping and killing a woman in a public toilet in Hohhot. It took only 61 days from the date of the case to his execution.
The case triggered controversy and resulted in further investigation by judicial officers after Zhao, who was arrested in 2005 on other offenses, confessed to the crimes for which Huugjilt was convicted. Zhao has been in jail since.
However, it took years before the authorities decided in 2014 to retry Huugjilt and Zhao. On Dec 15, 2014, the Inner Mongolia Autonomous Regional Higher People's Court exonerated Huugjilt, ruling that he was not guilty of rape and murder, as the facts of his case were unclear and evidence was inadequate.
His parents received about 2 million yuan in compensation from the Chinese government on Feb 3.
Feng Zhiming, the police officer who was in charge of Huugjilt's case and was later promoted off the back of the case, is under investigation.
Detectives working in the Hohhot public security bureau admitted at the time when Huugjilt was executed that their work performance was rated by an annual quota on how many criminal cases they had solved. They were "eager to wind up a case, and the use of illegal punishment and inducement on suspects existed in case investigations."