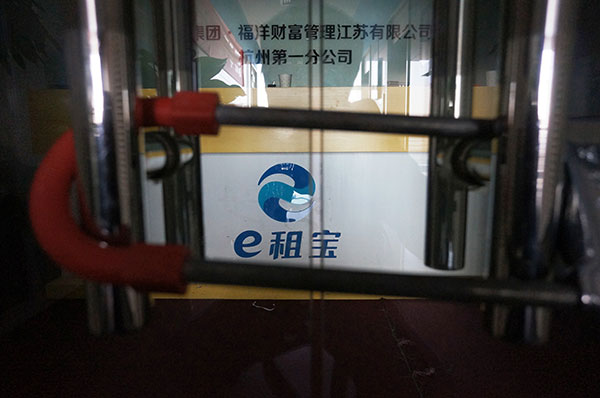 Office of E Rent Treasure in Hangzhou, Zhejiang province, is locked in December. LONG WEI/CHINA DAILY
Beijing police have busted a major fraud ring accused of using E Rent Treasure, an online financial platform, to illegally collect up to 50 billion yuan ($7.6 billion) in funds, harming 900,000 investors across 31 provinces and regions, according to the Beijing Public Security Bureau.
Ding Ning, former chairman of Yucheng International Group, the owner of E Rent Treasure, has been arrested by a Beijing prosecuting department on suspicion of fund-raising fraud, illegally acquiring funds and possessing firearms.
Twenty other senior managers in the company have also been arrested by national prosecuting departments on suspicion of illegally acquiring funds from investors.
In February 2014, Yucheng International Group purchased a Beijing network and technology company. In July, Yucheng changed the company's name to E Rent Treasure, operating it as an online financial company.
Fake information
Yucheng was registered abroad and consisted of eight business operation centers across the country, including in Beijing, Shanghai and Anhui province, that allegedly used fake information and fabricated financing and leasing projects, according to the Beijing Public Security Bureau.
The group allegedly lured members of the public to invest money, promising returns of 9 percent to 14 percent, the bureau said.
Between July 2014 and December last year, Yucheng illegally acquired as much as 50 billion yuan from 900,000 victims, according to Beijing police.
"We are working closely with the China Banking Regulatory Commission and the People's Bank of China to speed up the collection of evidence, confiscating and identifying the illegal assets. We will try our best to recover lost funds for the victims," said a senior police officer from the Beijing Public Security Bureau who declined to reveal his name.
He said investors can report information on the Ministry of Public Security's website.