The national environmental authority found severely excessive pollution emissions during inspections of 648 companies in 59 cities in December, and it promised tougher punishment this year under a newly enacted air pollution control law.
In December's monthly inspections targeting companies that discharge air pollutants, the Ministry of Environmental Protection and its inspection teams found that excessive emissions were a big problem in the 59 cities that were inspected, said Zou Shoumin, head of the ministry's Environmental Inspection Bureau, on Monday.
Among the 648 inspected companies, the ministry found 31 polluters that directly discharged pollutants into the air or did not use required facilities to reduce pollution.
The December inspections covered many provinces in northeastern, northern, central and southern regions, including Shanxi, Sichuan, Guangdong and Shaanxi provinces.
Some companies failed to obey requirements. For example, a thermal power plant in Zhongshan, Guangdong, continued to pollute, despite being ordered 11 times since June 29 by the city's environmental bureau to stop polluting.
'Tough punishment'
Five of the companies that were found to be polluting provided heating services to the cities of Xianyang, Shaanxi province, and Changchun, Jilin province.
"All the polluters have received tough punishment," said Zou.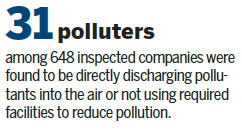 For example, the environmental watchdog of Anshan, Liaoning province, exposed an iron mine company in the city with excessive emissions and fined it on a daily basis, totaling 4.82 million yuan ($733,000).
Imposing daily fines for companies that persist in polluting is one of the powerful tools provided by the Law on Environmental Protection.
Between January and November, the total amount of daily fines levied against 611 polluting companies reached 485 million yuan, Zou said.
The ministry and local bureaus inspected 1.58 million companies, exposing 51,000 polluting companies in the first 11 months of last year.
Meanwhile, the Law on the Prevention and Control of Atmospheric Pollution took effect on Jan 1.
"We will highlight the responsibilities of local governments in protecting air quality during the law's implementation," said Wang Jian, deputy head of the ministry's Pollution Control Bureau. "The punishment of polluters will also get tougher."
The newly implemented law will facilitate air pollution control, along with the law revised last year and a national campaign against air pollution, increasing the cost to companies with excessive emissions if they worsen air quality, Wang said.