Chinese start to talk more about sex education
Sun Xiaofang, a 25-year-old pregnant math teacher at a school in Beijing, remembers one particular middle school biology class clearly.
Her teacher glossed over the basic anatomical and physiological differences between males and females in a textbook in less than 20 minutes, telling the students to "read it by yourselves after class".
"Girls flipped over those pages and blushed, and all the boys kept silent," Sun said. "The atmosphere in the classroom was one of embarrassment and hilarity."
That 20-minute lesson accounted for the entire formal sex education she received, an all too familiar experience for young Chinese. Talking directly about sex is often deemed difficult by parents.
"It is too late for students to receive sex education after they enter adolescence," said Pan Suiming, director of the Renmin University of China's Institute of Sexuality and Gender.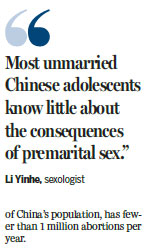 Talking about sex remains taboo in Chinese culture. Some experts consider a lack of proper sex education, particularly in schools, as one of the factors leading to serious health problems in China, such as the growing numbers of HIV infections and staggeringly high abortion rates.
Zhang Yinjun, director of the AIDS Prevention Education Project for Chinese Youth, said that HIV is now growing fastest among Chinese adolescents, and more than 90 percent of infections occur through sexual relations.
From January to September last year, there were 96,000 new HIV infections, with 24.4 percent in the 20-29 age group, according to China's National Center for AIDS/STD Control and Prevention.
Teenage pregnancies and premarital abortions are also rising. The National Health and Family Planning Commission reported in 2015 that around 13 million abortions are performed annually in China. By comparison, the United States, with roughly a quarter of China's population, has fewer than 1 million abortions per year.
Change on horizon
Today, an increasing number of Chinese adolescents are engaging in premarital sex, in many cases with only vague knowledge of safe sex practices, experts say.
"As a result of secretive sex education in China, most unmarried Chinese adolescents know little about the consequences of premarital sex," said Li Yinhe, a Chinese sexologist.
China is making strides to break its silence on sex. The Ministry of Education recently issued a guideline suggesting that higher education institutions set up public courses on health education to teach students about sex and reproductive health.
In recent years, there have been increased calls for better sex education in China. Liu Wenli, a professor at Beijing Normal University, has been running a public WeChat account called "Love and Life" since 2014, offering a free subscription service on sex education information.
Liu and her team have also been popularizing their Cherish Life sex education textbooks for Chinese children. Each month, the team visits kindergartens and primary schools in Beijing to observe lessons and coach teachers.
Sun, the pregnant math teacher, often thinks about the sex education of her child.
"It will definitely be better than mine," she said.
Xinhua
(China Daily 07/17/2017 page4)

Editor's picks