75,000 people relocated in rain-ravaged NE China county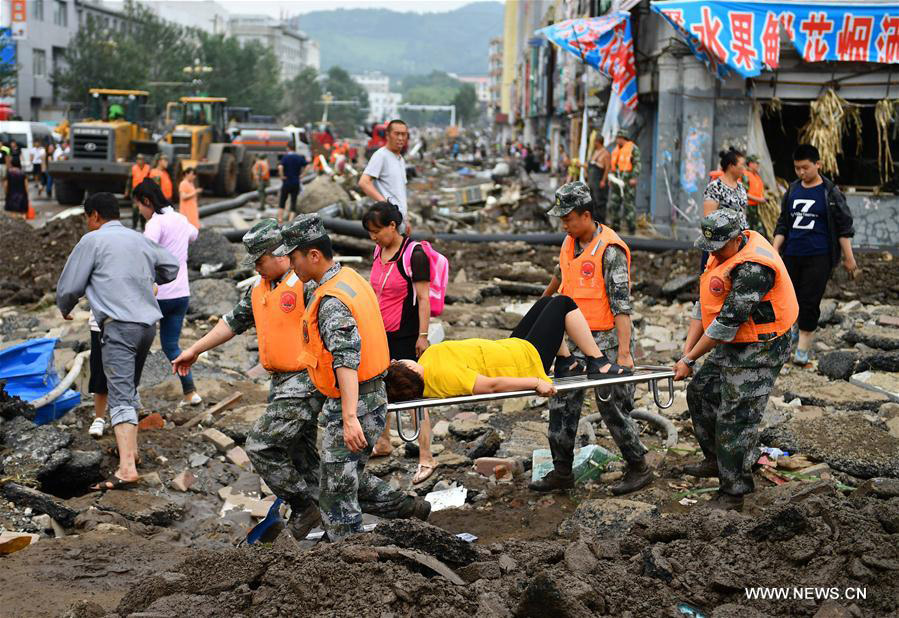 Rescuers transfer an injured person in Yongji county, Northeast China's Jilin province, July 14, 2017. Heavy rain caused waterlogging in Yongji county from July 13 to 14. [Photo/Xinhua]
CHANGCHUN -- Over 7,500 houses have collapsed or suffered damage and 75,000 residents have been relocated since rainstorms starting hitting Yongji county in Northeast China's Jilin province on Thursday.
Torrential rain started to fall in Yongji at around 9 am Thursday, with the average precipitation reaching 175.4 millimeters from Thursday to Friday noon, when the rain decreased, local disaster-relief headquarters said Friday.
Rain-triggered floods damaged cropland and several transportation routes in the county, with many services, including power, gas and water supply suspended in much of the county.
A total of 75,000 people were evacuated and 260,000 people were affected.
The local government has formed 14 disaster-relief teams to relocate the victims and disinfect disaster areas to prevent disease.